Monstrous Acts
Written, Designed and Directed by Steven Dawson. Out Cast Theatre (VIC). Mechanics Institute Performing Arts Centre, Brunswick. October 11-22, 2011.
Steven Dawson's play is set in France in the 15th century, but this has little to do with the story of two men who are imprisoned and condemned to death - one innocent the other guilty of the worst crimes.
The context though, allows for the exploration of such Gothic themes as Heaven and Hell, Sin and Death, Love and Forgiveness.
The dark and intimate setting, serves well the narrative to come, which at times is unsettling but also poignant. The haunting, Gothic music suitably evokes the presence and images of medieval Europe.
The play's two characters could not be more different. Gilles played by Antony Talia, is dominant, resolute to his state of depravity and capable of heinous cruelty. In contrast, Sebastian played by Mathew Gelsumini, is innocent and vulnerable, with the potential for unfathomable forgiveness.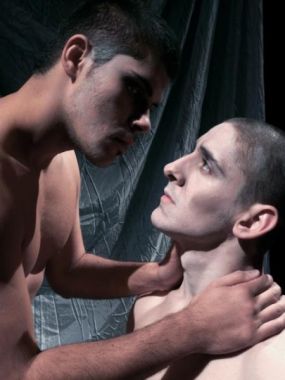 What follows is a story of two people, who, with no choice but to abide together under intolerable circumstances, find in their last days love, acceptance and forgiveness.
As the characters face impending violent death, they are not alone and therefore less afraid. Gilles, though, cannot find peace and suffers anguish for his crimes; unable to accept the hope of redemption.
Dawson is to be commended for attempting such epic themes - not easy to cover in one hour of dialogue, but he achieves his goal of a believable love story. Both Gelsumini and Talia are excellent and hit the emotional peaks effortlessly. One criticism would be that their diction had too much of an Australian vernacular. A neutral accent would have better suited the historical French setting.
The play, at 70 minutes, was a good length. A program with a synopsis introducing the characters would have been helpful.
This is a rated R show. Some scenes may not be agreeable for some.
Karen Coombs
To keep up with the latest news and reviews at Stage Whispers, click here to like us on Facebook, or follow us on Twitter.