The Motherf**ker With A Hat
By Stephen Adly Guirgis. Director: Adam Mitchell. Studio Underground, State Theatre of WA Jan 17 – Feb 3, 2013
While I don't consider myself a prude, I wasn't particularly excited about seeing The Motherf**ker With A Hat. The title and the promises of extremely frequent course language, explicit sexual descriptions, drug use, adult themes and possible nudity, didn't seem likely to be hiding great theatre, but I would urge people with similar misapprehensions to go.
Writer Stephen Adly Guirgis produces dialogue that is profanity strewn but at times has the clever humorous dialogue of Coward or Wilde.
His characters are deeply flawed, hugely misguided or just plain strange, but are all densely constructed and interesting and the plot line, while relatively simple, is captivating.
Performances throughout were excellent. Central character Jackie, recently released from prison and precariously on the wagon, was played with passion by Austin Castiglione.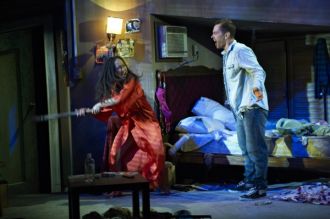 Jackie's girlfriend Veronica, a fast talking Puerto Rican with a coke habit, was beautifully played by Rhoda Lopez with both toughness and vulnerability. An outstanding performance that endeared her to the audience.
Jackie's AA sponsor was played with apparent effortless charm by Kenneth Ransome, while Alison Van Reeken was excellent as his wife Victoria.
Stealing many scenes was Fayssal Bazzi as Jackie's camp but 'sort of' happily married cousin, who brought renewed energy to every scene.
Brian Woljen's revolving set allowed quick transitions but also showed almost perfect attention to detail.
The Mother**ker With A Hatseemed a surprising choice for a state theatre company, but this risky play, in spite of its profanity and subject matter (or perhaps because of it), was an excellent piece of theatre.
Kimberley Shaw
Images: (top) Fayssal Bazzi, Austin Castiglione and Kenneth Ransom & (lower) Rhoda Lopez and Austin Castiglione. Photographer: Gary-Marsh