Motherhood the Musical
By Sue Fabisch. HIT Productions and GFour Productions. Everest Theatre, Seymour Centre, Sydney. July 26 – Aug 13, 2011, then touring.
Despite a late start on opening night – which didn't see to faze the happy patrons – Motherhood the Musical swung on to the Everest theatre stage with all the love and laughter that one would expect from Sue Fabisch's insightful, tongue-in-cheek lyrics and foot-tapping rhythms.
The four performers hit the Sydney stage with a bang that they sustained for the full 90 minutes of the show.
Rebecca Moore as Amy – mother-to-be then new mother (and Granny for one funny and appealing song) is appealingly excited, confused, frightened and totally lovely as the new Mum. Her list of things to buy and choice of recommended baby 'stuff' in "Nothing but the Best (for my baby)" is really on the ball – and the audience loved it! Her change to her mother in "Grannyland" shows the variety of her very carefully honed talents.
Amelia Christo as Barbara – cynical and quick-witted on the surface (but heart wrenchingly loving in the very touching "I'm Danny's Mum") – is a consummate, strong performer. She uses her voice and movement skills with controlled vitality – and has great commandl of the stage – and her audience.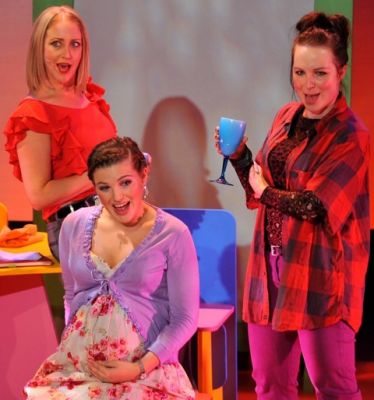 Contrasts come in the other two characters.
Jacaqueline Hay is amazingly natural as, Trisha. This character picks up on all the things that don't go away! She's overweight ("BabyWeight Blues"); she's divorced and facing the problems of dealing with custody problems ("Every Other Weekend"); but she sees the best side of everything. And Hay does it all beautifully, especially as she swings us about in her"Minivan".
Ziggy Clements – as Brooke - hits the problems of the working Mum, and the compulsive shopper ("Costco Queen" – where there is some great choreography with illuminated shopping trolleys!). It is Brooke also who leads the segment on conjugal demands! In her song "Do It" she takes total control of the stage – and the audience – and swings through a range of notes and choreography that is very funny – and certainly seemed to strike a chord with the – mainly female – audience (Though this was one song that the brave men in the audience seemed to enjoy!).
Direction in this production is tight and apt. There isn't a moment where time is wasted. The performers work very hard through the nineteen songs and the choreography, though seemingly simple, is clever and very effective. The set – primary colours and large replicas of kids' furniture in front of a cyclorama and five illuminated flats – immediately suggests that this is going to be a happy show. And it is! The moments of gentleness – "I'm Having a Baby", "I'm Danny's Mum", "When the Kids are Grown" – balance the cynicism and problems of motherhood – "I Leak" and "How Great They Were" (about their lost busts).
It is a more balanced piece of writing than Menopause the Musical, probably because all but one of the songs were written when Fabisch was actually facing the aspects of motherhood that she has brought together in this very happy and poignant production.
Carol Wimmer
Images: L to R in top image - Jacqueline Hoy, Ziggy Clements, Rebecca Moore and Amelia Christo in Motherhood the Musical, photo by Matt Deller.
To keep up with the latest news and reviews at Stage Whispers, click here to like us on Facebook, or follow us on Twitter.