The Mousetrap
By Agatha Christie. Centenary Theatre Group, Chelmer, Brisbane (Qld). September 3 – 24, 2011
Sixtieth year of its West End run! Agatha Christie's estate released amateur performance rights to this legendary whodunnit for 2011-12 only. Little theatres rushed to cash in.
Full-house scheduled performances this middle week of Centenary's run is a tribute to their slick professional production. Centenary board wasted no time negotiating with the company to perform extra matinees. So I managed to catch it.
For Mousetrap Christie wrote eight fully-developed characters, with tight, believable dialogue, in plausible situations, with carefully placed red herrings to confuse the audience. Rising tension all the way.
In her shows' casting, direction and performances are everything. This show succeeds on all counts!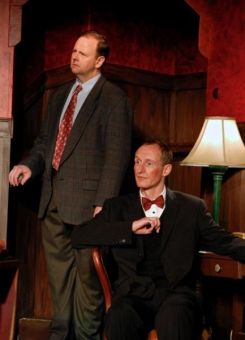 Director Kurt A. Lerps cast prestige actors, age and physical characteristics correct. In turn, they rejoiced in creating from Christie's script eight characters we could empathise with, warts and all. A true ensemble performance, everyone worked together towards the resolution (about which we all took an Oath of Silence before the play commenced).
The actors, in programme order: Sarah Fowkes, Brad Ashwood, Paul McGibbon, Meredith Downes, Chris Guyler, Meg Hinselwood, Erik de Wit and Andrew Clulow.
Equally committed and talented creatives supported them. Without their splendid set, effective lighting and sound design and operation, and efficient stage management, the quality of this show would have been diminished.
I'm tipping extra performances in their final week als
Jay McKee
Images (from top): Boyle (Meredith Downes) and Metcalf (Chris Guyler); Giles (Brad Ashwood) and Parvachini (Erik de Wit); the whole cast of The Mousetrap and Chris Guyler as Major Metcalf and Andrew Clulow as Sgt Trotter.
To keep up with the latest news and reviews at Stage Whispers, click here to like us on Facebook, or follow us on Twitter.