Mr Burns: a post-electric play
By Anne Washburn with Score by Michael Friedman. Griffith University Performing Arts. Directed by Daniel Evans. Burke Street Studio Theatre, Brisbane. 10–13 November 2021
Mr Burns is a curious, decade-old play that has just seen a quiet revival in Chicago. When its creators, US playwright Anne Washburn and lyricist/musician Michael Friedman, wrote it in 2012, I don't suppose either of them thought that it would have a strange resonance nearly 10 years later: a post-apocalyptic setting that focuses on how the theatre survives? Yes, we've all been thinking along those lines as we binge-watch boxed set after boxed set. So, what if there was a nuclear meltdown with few survivors and no electricity? How would we tell stories and how would we remember our culture? That's the question that Washburn asked actors at New York's The Civilians theatre group, and her recordings of their improvised sessions as they tried to recount the 'Cape Feare' episode of The Simpsons provided the basis for Mr Burns.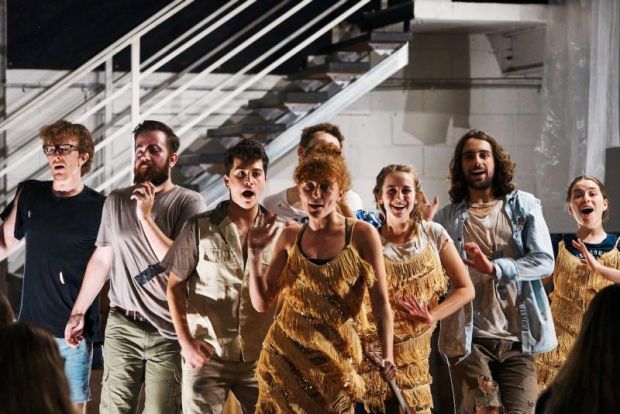 The retelling of a retelling is an idea that plays into Washburn's theme of how we remember culture and her assessment of what would be passed down to the next generation. It's a neat and witty idea that is fun to play with – but it is a one-punchline gag that really shouldn't take three Acts to get across. But that's the play's weakness and not the fault of this energetic and talented troupe of performers from Queensland Conservatorium Griffith University's final-year graduates. Without streamlining the first two Acts, Director Daniel Evans manages to keep the pace going and engage our interest by moving the cast and the audience to three different locations: first a campsite where we are introduced to the main characters and their plight as their campfire stories are the 'Cape Feare' Simpsons episode (and the Scorsese film remake, as well as the original Cape Fear, plus the Robert Mitchum character from The Night of the Hunter, and a mash-up of numerous pop culture references); then 7 years later, we walk to a rehearsal space as our survivors use the production of sitcom scenes, old TV advertisements and top-40 pop songs to keep going, despite human weaknesses that hamper their efforts. This section shows off some great singing but the soap opera drama is begging to be trimmed – or warmed up with audience participation. (But don't drift off yet, because the best is yet to come); and finally a full-on musical production in the Burke Street studio theatre space. By the grand finale – set 75 years hence – the people's tales have all merged into a strange Greek drama, complete with chorus and a cracking 'good versus evil' storyline.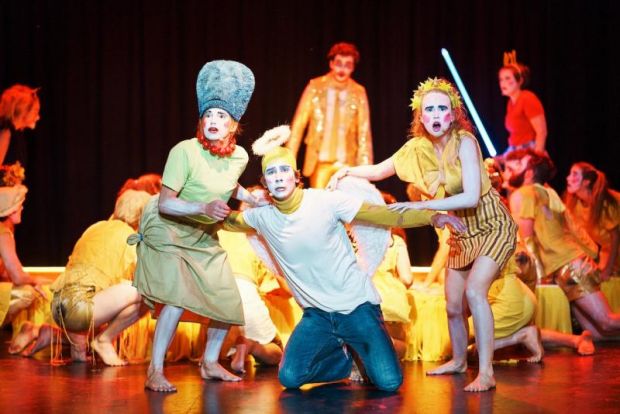 With a cast of 18, Mr Burns does provide a showcase for some talented performers. Kaitlin Evans and Rachel Thomas stand out as Bart and Lisa Simpson; their vocal performances give clarity to the musical material without the oversinging often demanded of US musicals. As Mr Burns, Lucas Stokes shines in his embodiment of pure loving-it-all evil. As TV cartoon heroes, Itchy and Scratchy, Adam Kay and Elizabeth Mahoney add some sharp-drawn fun. James Tait and Charlotte Hollett are secure as stalwarts Homer and Marge. The whole group are confident on stage in comedy, drama and song, and I only wish that there was Australian material available to give these talented performers more to do beyond practising their excellent American accents. The costumes designed from a variety of materials by cast members Josh Bull, Emily Crow, Elizabeth Mahoney, Lucas Stokes and Alexia Swain show great imagination in recycling-bin-meets-Greek-chorus chic. It's a fun production in an interesting setting and a great way to see this talented class of 2021 before they hit the professional stages next year.
Beth Keehn
Photos: Griffith University Performing Arts