Mrs Warren's Profession
By George Bernard Shaw. Sydney Theatre Company . Wharf 1. Director: Sarah Giles. 19 February – 6 April, 2013, then touring before a return season, 4 – 20 July, 2013.
Because of the times in which it was written (1893) this terrific early Shaw drama — here given a welcome rare revival by the Sydney Theatre Company — is powerfully constrained and guarded. Hypocrisy rules and nobody may even whisper what the 'profession' of the title might actually be. The play had been immediately banned by Britain's censor, The Lord Chamberlain, who branded it 'immoral' and 'improper for the stage'.
Ironically, Shaw's extreme care with his coded dialogue makes Mrs Warren's Profession more to 21st century tastes. He doesn't, as in many of his didactic masterworks, overpower with argument: it's all left for the audience to sort out. Sarah Giles, on her debut STC directing assignment, keeps a properly tight rein on her cast, gradually revealing the true extent of Shaw's social anger and pioneering feminism.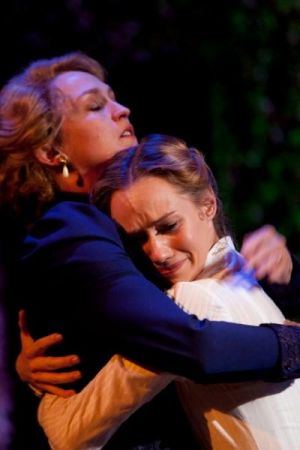 On a stage that thrusts deep into the audience, super-bright graduate Vivie Warren (Lizzie Schebsta) prepares to meet her much-absent mother Kitty (Helen Thomson). "You modern young ladies are splendid," says family friend Praedy (Simon Burke) who angles for Vivie's attention as much as lanky, toothy Frank (Eamon Farren), laid-back son of the nervous vicar (Drew Forsythe) next door. When Mrs Warren arrives, accompanied by her rich and aggressive business partner, Sir George Crofts (Martin Jacobs), Vivie begins to uncover the secrets and lies that have sustained her privileged life and education.
Words like 'prostitute' or 'brothel' are never mentioned — even the act of writing them down gives these characters the vapours — yet the background becomes crystal clear and Vivie's choices are seen to be both devastating and life-enhancing. Schebta is excellent: we ride along with her as she faces each new challenge.
Thompson makes a big impression on arrival as the glamorously attired Mrs Warren, but the tough-nut cockney battler inside doesn't, as yet, completely convince. Jacobs is particularly good as the sonorous dodgy businessman making a lazy play for the spikey girl.
Designer Renée Mulder's long pink-rose-covered wall is all we get for the first three differentiated scenes. Composer Max Lyandvert's scene-bridging score doesn't seem much in tune with Shaw's angrily repressed Victorian gem.
Frank Hatherley
Images: Martin Jacobs and Lizzie Schebesta & Helen Thomson and Lizzie Schebesta in Sydney Theatre Company's Mrs Warren's Profession. Photographer: Brett Boardman.