Much Ado About Nothing
By William Shakespeare. Directed by Jack Wilkinson presented by GJ Productions. Fairfield Amphitheatre, Fairfield Park, Heidelberg Road, Fairfield. 24 January – 1 February, 2020.
This is an enjoyable production of Shakespeare's comedy and many of the witty elements are beautifully captured. The two leading characters in this production, Benedick (James Martin) and Beatrice (Grace Maddern), are in good hands and the reluctant romance that occurs between them provides much of the amusement in this play.
There is also a more sombre dramatic side to this play in the injustice that Hero (Marissa Ecomono) endures at the hands of her groom Claudio (Daniel Agar). Although this is a misfortune brought about by Don John's (Jennifer Piper) envy of Don Pedro (Samuel Anderson), the drama of this episode could be highlighted more. Piper's portrayal of Don John is very effective in terms of positioning the character as an outsider or a misfit and this contrasts nicely with the highly conventional 1950s retro theme of the costuming.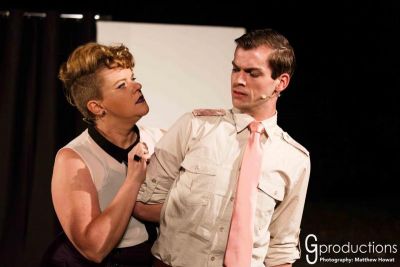 The production relies somewhat heavily on the atmosphere created by the enchanting location. There could have been more consideration of ways of populating the stage area in order to distinguish the spaces of each scene and to further enhance the cultural qualities of the era in which the play is set. As an outdoor production, the performance would also benefit from faster pace.
In this show GJ Productions works hard to create a magical experience allowing the audience to take in the beautiful atmosphere with pre-show entertainment and adopting a very relaxed and engaging approach to the performance.
Patricia Di Risio