The Music Of The Night - The Songs of Andrew Lloyd Webber
Music by Andrew Lloyd Webber. Spears Entertainment. Director: Theresa Borg. Producer: Caitlin Spears. Musical Director & Arrangements: Stephen Gray. Choreographer: Celina Yuen. Chapel Off Chapel, Melbourne. May 12 - 16, 2021.
This year marks two musical theatre milestones for British composer Andrew Lloyd Webber - the 40th anniversary of Cats and 35 years of The Phantom Of The Opera. A musical with lyrics based on T. S. Eliot poems, featuring singing and dancing felines? Who could have predicted it's worldwide popularity. Equally unusual, a musical about an unhinged musical genius lurking beneath the Paris Opera House. Surpassing even the popularity of Cats, some estimate that Phantom is the most successful single entertainment event in history, playing to over 130 million people across 27 countries plus a successful movie version, nominated for three Oscars. After fifty years of doing what he loves, Webber shows no sign of slowing down, with his new musical version of Cinderella opening in the West End this year.
Top image - Madison Green (background: Cherine Peck, Caitlin Spears, Bianca Bruce, Genevieve Kingsford)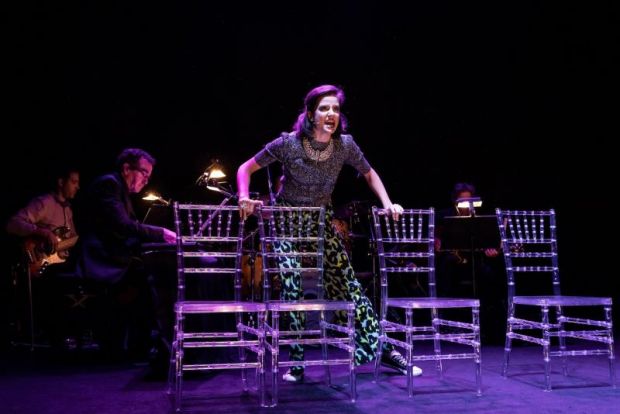 Image: Genevieve Kingsford
Slowly, gently, the night unfurls its splendour. This 90 minute extravaganza featuring 25 songs from Sir Andrew's massive catalogue including crowd favourites "The Music Of The Night", "Love Changes Everything" and "Don't Cry For Me Argentina". It was great to hear some lesser performed songs from Starlight Express, Love Never Dies and Song and Dance. The beautiful arrangements by Stephen Gray (performed superbly by the fourpiece band) were fresh, vibrant and modern. It almost felt like you were hearing some of these songs for the very first time.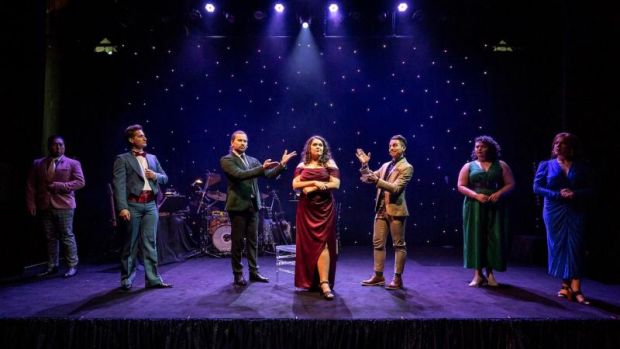 Image: Caitlin Spears (background L-R: Raphael Wong, Tod Strike, Andy Conaghan, Christopher Scalzo, Bianca Bruce, Madison Green)
The complex yet delicate harmonies of the ensemble were truly exquisite. The inventive mashup of "I Don't Know How To Love Him" and "Tell Me On A Sunday" was a crowning moment of storytelling and heartfelt emotion. "Prima Donna" from Phantom, although being Webber's most complex chorus work, was dazzlingly executed. The comradeship onstage was natural, at times quirky and each cast member's personality shone bright. Even the audience were allowed in on the fun at times, including a sing-a-long of "Any Dream Will Do".
The nine central cast members are Bianca Bruce, Andy Conaghan, Madison Green, Genevieve Kingsford, Cherine Peck, Christopher Scalzo, Caitlin Spears, Tod Strike and Raphael Wong. Each singer was equally riveting in both their solo, duet and ensemble works. The standard of vocals, character interpretation and onstage presence was next to none.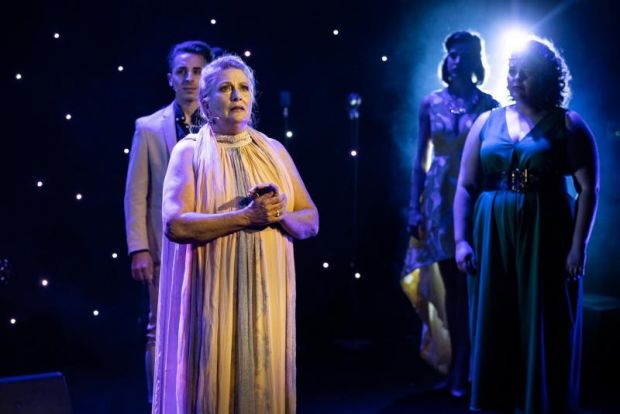 Image: Debra Byrne (background: Christopher Scalzo, Genevieve Kingsford, Bianca Bruce).
An elated audience welcomed special guest star Debra Byrne to the stage when she delivered her famous showstoppers – "Memory" from Cats and "With One Look" from Sunset Boulevard. Ms Byrne, a stalwart of the Australian theatre for over 35 years, received rapturous applause from an appreciative house.
In Melbourne we are truly blessed to have so many theatre companies full of talented performers. Tonight was no exception! A rousing standing ovation ensued at the end of the heart-wrenching finale "No Matter What". When leaving the theatre my wife and I both agreed you wouldn't find a better performance on Broadway. I kept thinking that if only Sir Andrew could see this, or perhaps it could be filmed for streaming service BroadwayHD so all the world can see it.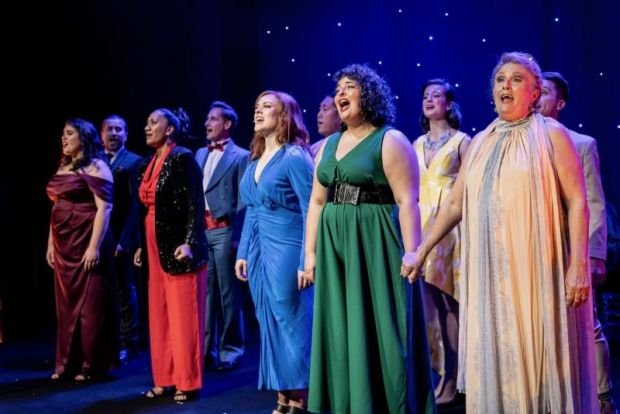 Image: Full cast perform the finale.
Spears Entertainment are to be congratulated on a wonderful night of music that was flawless and world class from start to finish!
Jonathan Cox
Photographer: Ben Fon