Musica Viva
Sofia Troncoso, Patrick Nolan and Alex Raineri. Queensland Conservatorium, Griffith University. 24 November 2021
This Musica Viva programme should have been titled 'Proustian Paris: A Salon with Marcel' – as most of the chosen pieces are from the writer's revolutionary turn-of-the-century period that includes the Belle Epoch. And the represented composers are those whose works Proust would have been familiar with; some more intimately connected with his life, such as Reynaldo Hahn, the Venezuelan composer who lived in Paris and became Proust's lover. Appropriately the two artists met at a Parisian Salon. When you imagine such a Salon you think of the music as 'delightful' – but this selection proves that, while that is mostly true, some of the works were much more challenging. Many of the short pieces end abruptly and are left unresolved. The lengthier tunes are those you can imagine the crowd singing along to.
The evening's entertainment started with Bellini's 'Eccomi in lieta vesta… O quante volte', sung by the accomplished soprano, Sofia Troncoso, an intriguing performer from South American heritage who has performed in Australia with Opera Queensland, Camerata, Orchestra Victoria and in the UK with numerous companies after studying at the Royal Academy of Music. Sofia is a relaxed and engaging performer and it was a real treat to see her perform in such a small auditorium space.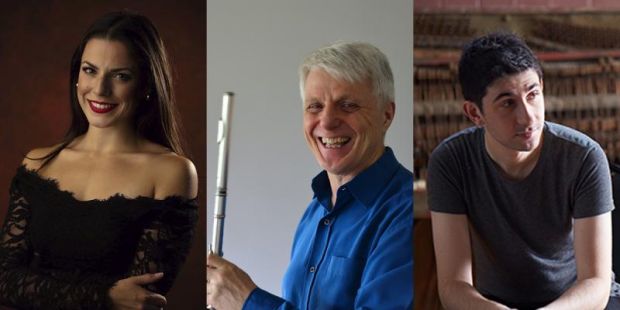 Images: Sofia Troncoso, Patrick Nolan and Alex Raineri. Photos supplied by Musica Viva.
Patrick Nolan has performed as principal flute for the Queensland Philharmonic and Symphony orchestras. He is now flute specialist at the University of Queensland School of Music and had many fans in the audience to witness his faultless performances, especially Doppler's 'Mazurka de Salon', and Ravel's 'The Magic Flute' from Sheherazade, a final showstopper featuring Sofia on vocals and Alex Raineri on piano. It was brilliant to witness these three virtuoso performers together on stage, including the enchanting 'Au Printemps' odelettes by Maurice Emmanuel and – from Debussy's Chansons de Bilitis – 'Pan's Flute'. But equally satisfying were the solo works by Alex Raineri on the keyboards, including preludes by Chopin and Szymonowski, and the more intimate pieces with just flute and voice, such as the enigmatic 'Deux poemes de Ronsard' by Albert Roussel. Piano and vocals evoke the Salon atmosphere and of course Hahn is represented with 'L'heure exquise', 'À Chloris' and 'L'énamourée'. After a pesky problem with (I assume) some hearing loop feedback, the trio treated the appreciative audience to an encore performance of Roussel's 'The Nightingale'.
The era that these performers evoked is such a fascinating period artistically. And music at the time was having its own revolution. Alex Raineri put us in the picture about the many 'preludes' performed in this programme – a form of short pieces that became popular outside the large concert halls, when music moved into the cafes and private salons. You can see the connection to the 3-minute pop song. And that is why live performance of curated programmes is so satisfying - there is so much to enjoy, learn and appreciate from seeing performers of this high calibre working together.
Check out Musica Viva's 2022 Season: https://www.musicaviva.com.au/concerts/2022-season
Beth Keehn