My Fair Lady
By Lerner and Loewe. Old Scotch Music and Drama Club. Director and Choreographer: Robert Ray. Musical Director: John Ferguson.
The Old Scotch Music and Drama Club production of My Fair Lady was lavish, as it should be. The slightly abstract sets worked well, making scene changes smooth, and no expense was spared with the costumes.
The standard was set in the overture, when one could have been listening to a CD. The standard of the 23 piece orchestra was high. The chorus singing was also strong and the choreography breathtaking.
The cast were equally impressive. Petite Laura Slavin was a strong Eliza with a beautiful singing voice, and extracted the maximum from this plum role. The experienced Peter Maver as Higgins was a good foil. Stealing the show, as always, was the Doolittle of David McLean. Not only did he have the personality, he had an exceptional singing voice and I wasn't surprised to see he'd played Sweeney Todd.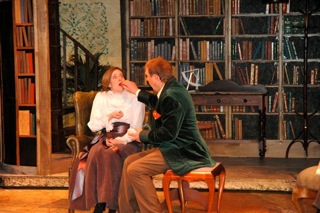 Freddy Eynsford-Hill was played by the Scotch College school captain, Jack Fowles, displaying a confidence and maturity beyond his years, and a very attractive singing voice. There were no weak links in this cast.
My only problem as usual, was the sound. Though I could hear every word (probably helped that I knew the show) the sound was shrill, but this was a minor issue with such an extraordinary production.
Graham Ford