My Fair Lady
Music: Frederick Loewe. Book & Lyrics: Alan Jay Lerner. Based on George Bernard Shaw's Pygmalion. Toowoomba Choral Society. Director: Kate Peters. Musical Director: Nick Williams. Choreographer: Lucy Panitz. Empire Theatre, Toowoomba, Qld. 13-15 September 2019
Toowoomba Choral Society's production of My Fair Lady proved why the musical is regarded as one of the best, if not the best, musical ever written. Director Kate Peters, on a sabbatical from her Gold Coast domain, knows her musical theatre, and this production was first class all the way. Great performances from a top notch cast meant that Lerner and Loewe's masterpiece crackled with wit, captivated with melody, and blossomed, like the flowers in Eliza's basket, into radiant joy.
Shannon Gralow, no stranger to the big soprano roles, was the perfect Eliza Doolittle - warm, feminine and feisty in her determination no elocution teacher was going to break her cockney spirit. "Wouldn't it be Loverly" was just "loverly", as was "I Could Have Danced All Night", but it was the show's "magic moment" in "The Rain in Spain" when Eliza masters the correct pronunciation of the English language for the first time that electrified.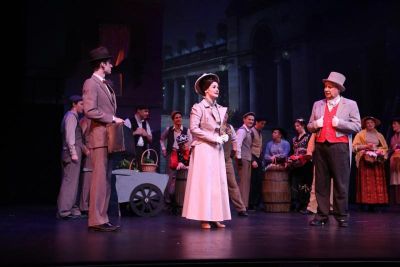 Jon Maskell's Henry Higgins was one of the best community theatre performances of the role I have seen. His command of the character nuances was impeccable and his singing of Higgins' songs, as opposed to the usual "talk singing", was a breath of fresh air. It's hard to pick highlights, but "A Hymn To Him" and "I've Grown Accustomed to her Face" were masterful.
Ken Morrisey was boisterous as Doolittle, having a great-old knees-up with "Get Me to The Church on Time", Vicki Bravery brought warmth to Mrs Pearce, whilst Wendy Lee Kyle's Mrs Higgins was staunchly Edwardian. James Taylor was a bit underpowered vocally on "On the Street Where You Live", but the chorus vocals were glorious.
Evan Hollis' set design had some impressive period back-projection which was seamlessly integrated into his set-pieces, and Debra Nairn's haute-couture replicated the period with style, especially her black and white outfits for "Ascot Gavotte" routine.
The strength of the production was in Kate Peter's on-the-money and layered direction. It resulted in a wonderful and satisfying night of musical theatre.
Peter Pinne