My Romantic History
By D.C. Jackson Red Stitch Actors Theatre (Vic). July 13 – August 13, 2011.
Written by emerging Scottish playwright D.C. Jackson, My Romantic History is a crisp and clever social satire. It explores the universal theme of 'the girlfriend – boyfriend thing' – dating and finding a life partner and could just as easily be set in Melbourne, sometime in the last forty years, as anywhere. It is full of delightful quips, unexpected insights and satisfying character trajectories.
Director David Whiteley, the current Artistic Director at Red Stitch, deals sensitively and appropriately with the material. He advantageously utilises a set, designed by Peter Mumford, comprised of three toilets in cubicles used to denote many diverse social and private spaces.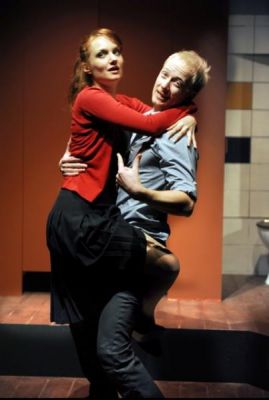 Initially we are introduced to the experiences of Tom through his burgeoning relationship with Amy – 'just a girl at work'. Events are explored through Tom's eyes, particularly through his narrative of asides. Tom expresses a disrespectful attitude that borders on misogyny. The scene set is bit yucky and nasty, suggesting the world of dating is quite some battleground. However eventually the tables are turned and much is revealed and forgiven.
All three actors Zoe Boesen, Ngaire Dawn Fair and Tim Potter serve the piece extremely well. They are deft and flexible in their portrayal of a number and variety of characters.
The evening moves at a cracking pace and is riddled with giggles, chuckles, chortles and very telling outbursts of the type of laughter that just blurts out, when the joke hits shockingly close to home, catching one completely unawares, and a little embarrassed.
Ultimately a strong emotional connection and engagement is elicited.
If I had any quibbles they would be that the very energetic and full-on projection used by Tim Potter occasionally renders words inaudible. Also the use of the final photographic image brings with it some negative and disturbing connotations.
Highly recommended.
Suzanne Sandow
Images: top - Ngaire Dawn Fair, Zoe Boesen and Tim Potter. Lower - Zoe Boesen and Tim Potter. Photographer: Jodie Hutcinson.
To keep up with the latest news and reviews at Stage Whispers, click here to like us on Facebook, or follow us on Twitter.