The Mystery of Edwin Drood
By Rupert Holmes. Bankstown Theatre Company. Olympic Parade Theatre, Bankstown. July 25 to August 3, 2014
Charles Dickens' final, unfinished novel gets a different ending each night in this rollicking music hall style entertainment, a Tony Award winning show-within-a-show musical.
Because Dickens didn't complete his novel, each audience gets to vote for the evening's murderer, detective, and pairing of lovers. It's a delightful twist on the musical theatre form.
Despite its Tony Award pedigree, including the Best Musical, Score and Book trifecta, Bankstown Theatre Company's production of Drood is an all-too-rare opportunity to see this charming small cast show in Sydney. I only recall one previous community theatre production, many years ago.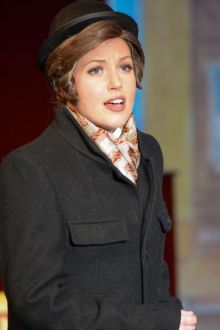 Christopher Hamilton directs a bright, lively production, incorporating a strong sense of 19th century music hall traditions, drawing appropriate music hall stereotype performances from his cast, who we first meet on entering the theatre as the music hall's stock repertory company members before they assume their characters. Direction and performances are attractively complemented by scenic art from Vince Cairncross, with a lush crimson and gilt rendering of a period music hall setting, combined with his now trademark projections of water colours as backdrops; here they're another period perfect touch along the lines of a Victoriana slide-show presentation.
Bankstown has assembled a strong community theatre cast for the production, though standing out in the title role is Courtney Glass, a performer with Broadway and regional American experience, whose stagecraft and finesse give her a sheer professional edge. Hers is an accomplished performance in the trouser role of Edwin Drood and a diva-licious glamour moment of pouting high theatrics as the departing Miss Alice Nutting.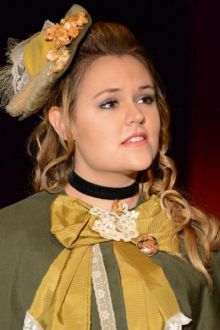 Strong performances all-round include Rebecca Carter's heroine Rosa, particularly her haunting rendition of 'Moonfall'; Ben Dodd and Greg Thorton's low comedy antics; Simon Fry's aptly posturing pastor; Stephen Halstead's broody, sleazy John Jasper; Victoria Wildie's enigmatic Princess Puffer; with Jessica James Moody and James Jonathon delightfully inscrutable as the sort of stock 'Oriental' characters, stage fixtures in the 19th century, who we'd now deem politically incorrect. Robert Taylor, as Bazzard, definitely the archetypal 'small part' of the old adage, and Vince Cairncross, occasionally emerging from behind his own set as the Stage Manager, round out the acting ensemble.
At the helm as the traditional chairman / host, pivotal to Music Hall, Les Asmussen's links sometimes stretched just a tad too long. It's a fairly pompous, ponderous part of the tradition, associated with ego-driven comics amused by their own hilarity, and in sending this up, the timing seemed a beat too slow at times at the performance I attended. I'm guessing, though, that on other occasions, livelier audiences will happily fill things out with more boisterous reactions.
At dual on-stage keyboards, Greg Crease and musical director Jayne Hamilton provide impeccable accompaniment.
Hopefully it won't take quite so long to see another production of this engaging little musical in Sydney. In the meantime, Sydney musical theatre lovers should jump at the chance to catch a performance during the show's final weekend.
Neil Litchfield
Earlier coverage and more details