Nana's Naughty Knickers
By Katherine DiSavino. Murray Music and Drama Club. Directed by Lori Anders. Pinjarra Civic Centre, WA. August 28 – September 5, 2020
Nana's Naughty Knickers is a fun little romp of a comedy delighting audiences in Pinjarra. I had the pleasure of seeing a matinee with a predominantly senior audience who loved this tale of Grandmother Sylvia, who runs a sexy lingerie store, catering to a senior citizen clientele.
Performing to a socially distanced audience in a cabaret setting, Pinjarra Civic Centre is beautifully decorated in pink and black. This extends to the set, resplendent in lolly pink. The set turns out to be a wonderful surprise package as Nana Sylvia's lovely apartment transforms into a lingerie boutique.
Title character Sylvia is played by a gorgeously aged up Carole Dhu, who is lovely as the wacky nanny - a wonderful anchor for the show, who also mentored the very successful first time director, Lori Anders. Sylvia's best friend Vera, slightly dotty and determinedly eccentric, is played with gusto by Polly Bonner, to form a dynamic duo of sassy seniors.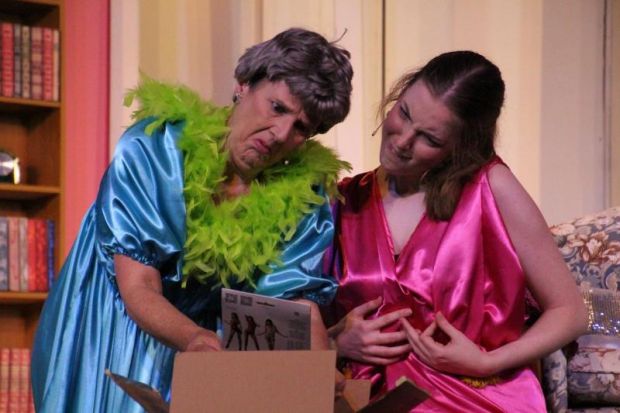 Into their world bursts conservative grand-daughter Bridget, an about-to-be law student, who is worried that grandma's illegal business venture will get her arrested or evicted. It's a lovely community theatre debut from Melanie Gray, who finds light and shade in the straightest character is this mad world.
Rp van der Westhuizen is perfectly cast as the "lovely little policeman", or Officer Good-looking, Tom O'Grady - both Tom and Rp being the sort of man who young women find attractive, but their mums and grandmums absolutely adore.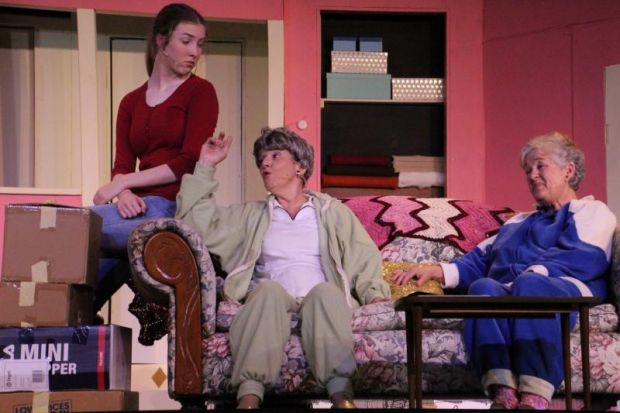 Great support from a collection of eccentric minor characters including Peter Shaw as Gil Schmidt, an unpleasant landlord, Sian Dhu as a sexy unexpected visitor, Christina Treg as the lingerie company's best customer and Matthew Wake in two fun cameos.
Kudos to costuming (Tammy Peckover) and props (Jeane Savage) for some great surprises, while Terry Peckover's lighting added to the fun.
A show that was fun for all ages, with just enough naughtiness to keep us on our toes. Fabulous fun.
Kimberley Shaw