National Theatre of Parramatta's Launchpad Double Bill
Riverside Theatres, Parramatta. 18-20 March, 2021
The Sorry Mum Project
Written and performed by Pippa Ellams
Directors: Hannah Goodwin, Tasha O'Brien
Pippa Ellams aplogises to her mother in a way that not only acknowledges her mother but suggests to "grown up children in the audience that they consider giving their mum a call". As Ellams looks back on all the strange things her mother "cried over" she nudges the daughters – and sons – in the audience to remember the things they took for granted, the times they should have said 'thank you', and just how often they forgot to say 'sorry'. She also reminds them of just how embarrassing parents can be!
Ellam chooses her mother's ambitions for her as a dancer to characterise and recapitulate her childhood. The many dance lessons, the fanciful costumes, even a visit to the Moulin Rouge. Though her anecdotes are filled with humour, I wonder if she realises that the feelings of resentment and humiliation that underscore the comedy reignite memories to the mothers in the audience as well.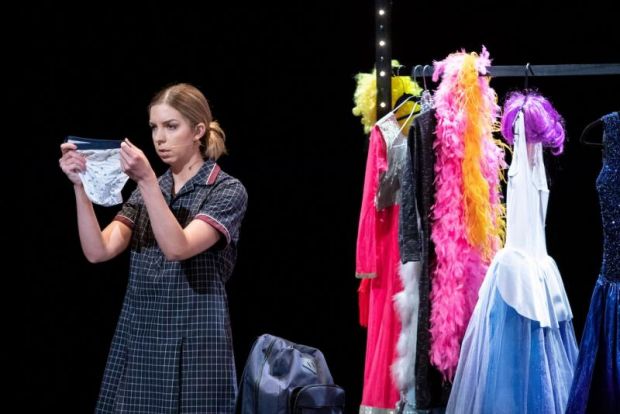 Does she see them cringing as they recall the many times they dragged their reluctant offspring to violin lessons? Or sent them to school in uniforms a few sizes too big so they could "grow into them"? Or embarrassed them by singing too loudly in church?
Ellams tells her story colourfully, surrounded by costumes, photographs and snatches of music. She uses the rhythms and patterns of the dance lessons that were so central to her childhood to accentuate the pace and cadences of her performance, finishing with a bright – and befittingly pink and feathery – choreographed "sorry" to her Mum.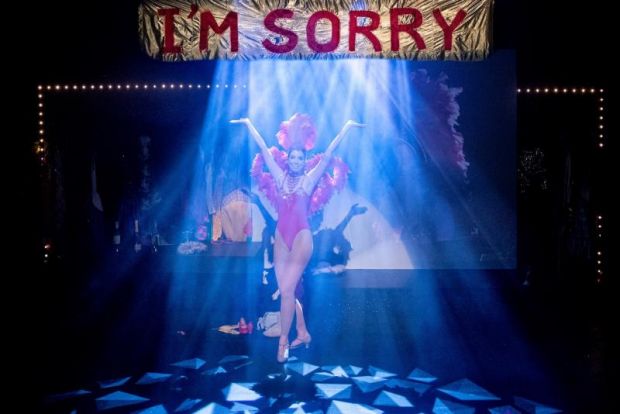 Pippa Ellams' message is two-fold. It's a message to kids and parents alike. She not only suggests we all "think about how we made it through the rough years" but that we find a way to say 'sorry' for some things – and 'thank you for others.
Ellams decided to do it through this production – and her Mum loves it!
Let Me Know When You Get Home
By Miranda Aguilar
Directed by Valerie Berry
How many times have you heard those words? Or said them? How many times have you wished someone would say them to you? What do they mean?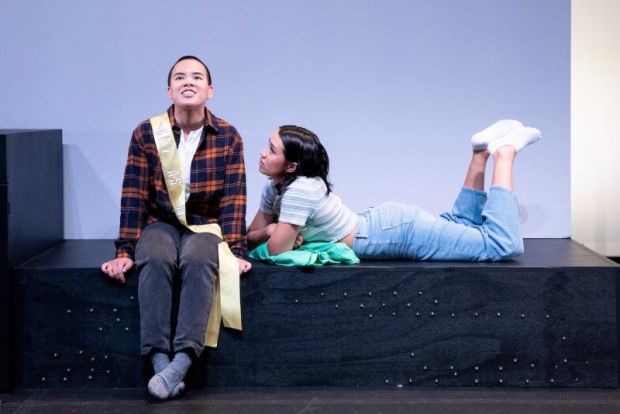 Miranda Aquilar uses them ambiguously to title this work that covers the host of insecurities and trepidations that are part of coming-of-age – especially if you are trying to escape a "racist, homophobic and transphobic community". She says she wrote the play for "every queer person who has been told they need to 'escape' Western Sydney … I wanted a work that didn't say, 'it gets better,' but instead tells young people, 'I know it sucks right now, so I'm going to stay here with you.'"
That's a big ask, particularly as the 'young people' to whom she is reaching out are many and their backgrounds are diverse. But that's okay, because she's peopled her play with characters – and actors – who artfully represent that wide diversity. And she's set the play in the lead up to Mardi Gras, where the group dynamics involved in making costumes and deciding who will carry the flag expose the very different backgrounds of the characters, their strengths and frailties, and their need to feel they belong.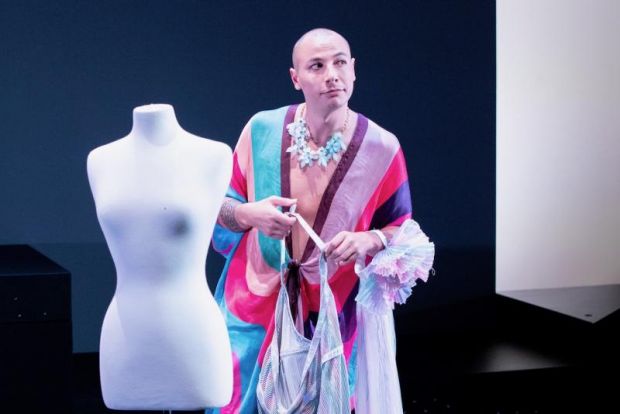 The cast – Gloria Demillo, Brooke Lee, Tommy Misa, Rose Maher and Jemma R Wilks – work through a series of scenes that, though they cover the plethora of fears and anxieties Aguilar obviously understands so well, are peppered gently with humour and affection. Much of this is carried by Tommy Misa's charismatic style and clever ability to mix empathy and pathos with just the right amount of glitz and glam.
Many themes are inter-related: coming out, getting away, isolation, finding friends, acceptance, rejection, coming home. Demillo and Lee take their characters Val and Thi from school day friendship to late teen acceptance of who they are and who they think they might be. Jemma Wilks is the 'every-mum' who worries and fusses but is understanding. Rose Maher manages the turmoil the Mardi Gras preparations.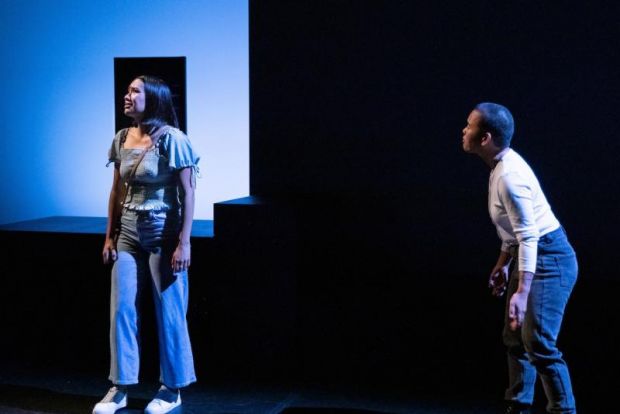 The set is simple but the constant movement of boxes and the business with superfluous props are distractions that draw out the production unnecessarily. Aguilar makes her point through the dialogue her characters and that's where the direction should have been centred.
"Everyone deserves to feel safe, loved and accepted. I hope this work feels like home …"
Carol Wimmer
Photographer: Noni Carroll.