Ned Kelly My Love – The Untold Story of Ettie Hart
Writer and Director: Xavier Brouwer. Set and Costume Designer Valentina Serebrennikova, Lighting Designer Maddy Seach, Researcher Paul O'Keefe. November 9th – 13th 2016.
Metanoia Theatre brings Ned Kelly My Love to the stage of the Mechanics Institute in Brunswick. This marvelous show is based on the previously untold love story between Ned Kelly and Ettie Hart, the sister of one of the Kelly gang, Steve Hart. In 2010 Ettie's great-great-grandson Paul O'Keefe found her scrapbook at the family home in Sydney. This was in a box containing many precious items; as well as the scrapbook there were photos, letters, obituary cards and newspaper clippings. A fascinating treasure trove that has unveiled some strong evidence that Ned Kelly may truly have been betrothed to Ettie Hart.
Before the show I was fortunate enough to meet Paul O'Keefe, whose passion and desire to share his charming family story is very obvious. Paul brought with him many of the items that were found in the treasured box and he was keen to show these, many old letters, police reports and notes. Having the privilege to view this wonderful collection of old world precious artifacts was for me a perfect backdrop and introduction to the show.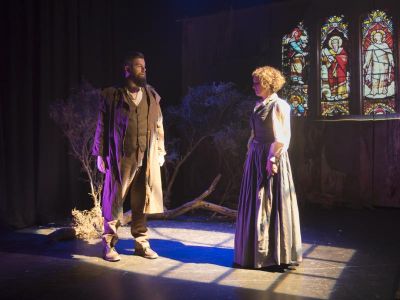 Full credit must go to all the creators that turn information into amazing theatre. This beautifully written and directed musical meticulously has put together all of the various pieces of the puzzle, it has shaped and molded them to fit perfectly and finally it transpired into a work of art. Whether the evidence is solid enough to warrant a change in the history books I'll leave to the scholars, but as a play, writer and director Xavier Brouwer displays great passion in telling this Australian story so beautifully.
Ned Kelly My Love is about Australia's favorite story with a new twist, a story that has pre-occupied every Australian at some point and for centuries. Ned Kelly has been the subject matter for many of our famous artists; painters, novelists and it is possibly the most written about biography of any Australian and now there is even more reason to romanticize our nations folk hero.
There has always been the divide between those that consider Kelly an Australian icon; the bushranger that robbed from the rich to give to the poor, that fought bravely against corrupt police and died a hero and those that believe he was a common lawbreaker, murderer and rogue. Whatever side you are on this play is charming. Through strong narrative and song, of which the lyrics were written from the notes transcribed from Ettie Harts scrapbook, a special story is told, a true operatic piece, full of drama, passion, love, blood shed and ultimately death.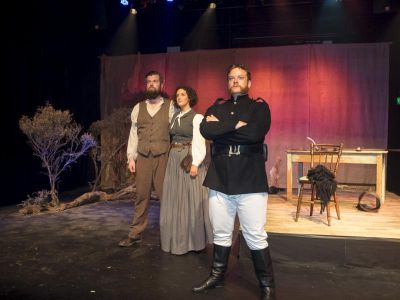 The cast of three are extraordinary, Caitlin Berwick as a strong and powerful Ettie Hart, Christian Gillet as a very fine and convincing Ned Kelly and Emil Freund who captures the Sergeant Steele character superbly. All three absorb the audience totally; it is engrossing and thrilling throughout and well done to the small cast who portrayed a powerful story; one that is so involved and so culturally ingrained.
The mood is well set by the great lighting design and the unobtrusive guitarist in the background, just a mere shadow providing a fitting soundtrack of the old bushranger days. The stage is arranged with an indoor and outdoor scenario, part bush setting and in contrast Ettie's study where she is constantly writing at her desk with ink and a feather.
The singing is very melodious and melodramatic and there is a perfect balance of narrative and song. A special mention must be made about the costumes that so accurately capture the era, everything just comes together perfectly. Ettie Hart later married into wealth and privilege and died in 1926. Now we get the chance to learn of this strong and brave woman, and of her first secret love to Australia's most notorious legend is revealed and what a great story it is. Whether you will believe it to be true or not, I think Ned Kelly My Love is quite a masterpiece and it is worthy of as wide an audience as possible.
Lisa Romeo