Neighbourhood Watch
By Lally Katz. Belvior (NSW). Director: Simon Stone. Cast: Charlie Garber, Megan Holloway, Kris McQuade, Ian Meadows, Heather Mitchell & Robyn Nevin. July 23 – August 28, 2011.
'Remember that not so long ago we were full of hope' - that is what director Simon Stone says in his program notes. For me it is this play Neighbourhood Watch that gives me hope for Australian theatre.
Simply put this production is stunning and in so many ways. I have not been moved by a piece of theatre to this degree for a very long time. I laughed a lot and cried a lot too. And I dare say I wasn't the only one in the audience who felt the same way.
This play is true theatre where imagination is a vital ingredient. It is exceptionally balanced with every element completing the other. There are no fancy effects, there are no spectacles, no show stopping numbers, there is just a cast, a stage - virtually empty except for one piano and a script which is so beautifully crafted and written that it yields the most extraordinary characters and story.
Lally Katz wrote this play for Robyn Nevin and I have to say that I was quite nervous this was going to turn into the "Robyn Nevin Show" with everyone fading into the background. But the rest of the cast didn't let me down, they rose to the occasion and were just as amazing as Nevin herself and she was really quite amazing. These characters live and breathe, they are full-bodied and have pasts, presents and futures and it feels like a privilege to even get a glimpse of their world.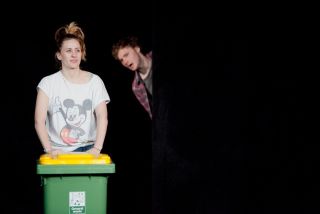 Simon Stone's direction is perfect, elegant and extremely sophisticated. Damian Cooper's ethereal lighting design and Dale Ferguson's set add another dimension to the overall production. They are both simple, but so well thought out you almost don't notice them, until you do. And Stefan Gregory's piano music is so hauntingly bittersweet it nearly breaks your heart.
All I have left to say is go and see it.
Whitney Fitzsimmons
READ THE FIRST PAGES AND BUY THE BOOK HERE.
Images - From Top - BELVOIR. Robyn Nevin; Ian Meadows & Megan Holloway; Megan Holloway & Charlie Garber. Photographer: Brett Boardman.