Neighbourhood Watch
By Lally Katz. Illuminate Educate. Bondi Pavilion. May 28 – June 6, 2015.
The theatre was packed with year 11 drama students lapping up a play by a writer who was young, hip and even knew the ins and outs of computer games.
Neighbourhood Watch, first staged by Belvoir only a few years back, has crept onto the New South Wales Higher School drama list.
A teacher with them reliably informed me that as well keeping the students thoroughly engaged with the jokes and story line, there were influences of Brecht and magic realism in the drama to study.
Before she could give me an essay question I slipped out to write something much less substantial – a review.
Neighbourhood Watch is a part real, part imaginary drama about an actress Catherine (Anne Wilson) and her neighbour Ana (Gertaud Ingeborg) from Hungary.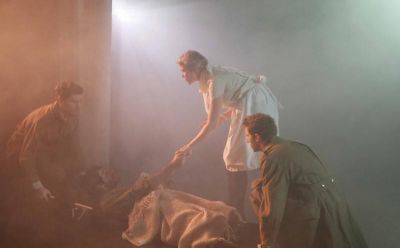 Gertraud Ingeborg immediately engaged as the cantankerous and mysterious Hungarian neighbourly busybody.
Catherine is a troubled soul – haunted by a past relationship. She has a quirky flatmate Ken (Skyler Ellis) who is also struggling to find his feet.
The pace quickens when Andrew Linquist (as her ex boyfriend Martin) smouldered onto the stage and later portrayed one of the terrifying characters from Ana's past.
This was a simple but attractive looking production which overcame the limitations of the Bondi Pavilion by having actors walk in from unexpected vantage points.
Clever lighting/ projection (Alexander Berlage/Isabella Andronos) also seamlessly transported it back and forth around the neighbourhood and back in time to Hungary.
This was a play and a production that appeals to young and old.
David Spicer