Neighbourhood Watch
By Lally Katz. New Theatre, Newtown, NSW. September 8 – October 3, 2020.
This revival of Lally Katz' 2011 hit was snatched from the New Theatre stage by COVID just before its opening night in March. Now the plucky theatre – with strict protocols and distancing – has thankfully reopened its doors, and this play, with a different director, designer and some cast changes.
Neighbourhood Watch is a deceptively difficult darkish comedy, telling in cinematically short scenes and flashes, an Australian neighbourhood story of inter-generational friendship, as historic griefs are reforged into new hopes.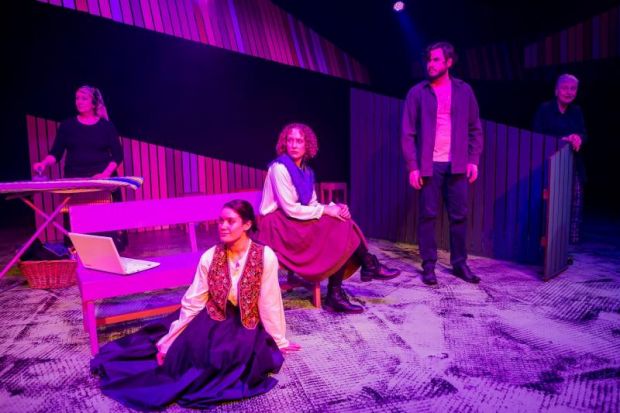 Centre-stage is Ana, an 80-year-old Hungarian scarred by a wartime and refugee past which has left her irrepressible but suspicious, lonely and deliciously caustic. While Colleen Cook warms to the role, she is yet to gear up her Hungarian to the rhythms and energy required to best land Ana's wit. Her friendship with young Catharine (Kelly Robinson), an aspiring actor still lost in a past love, eventually helps both women find new compassion and meaning.
The scenes leap in time and place across Tom Bannerman's oddly fairground-pastel panorama, between the women, and Catharine and her lost Martin (Joshua Horwitz) and with her aspiring screenwriting house mate, Ken (an engaging Stephen Lloyd-Coombs). But only rarely do these relationships strike emotional truths and arouse our empathy or real laughter. An essentially warm-hearted play which should defrost this dreadful "social distancing", looks here another victim of it.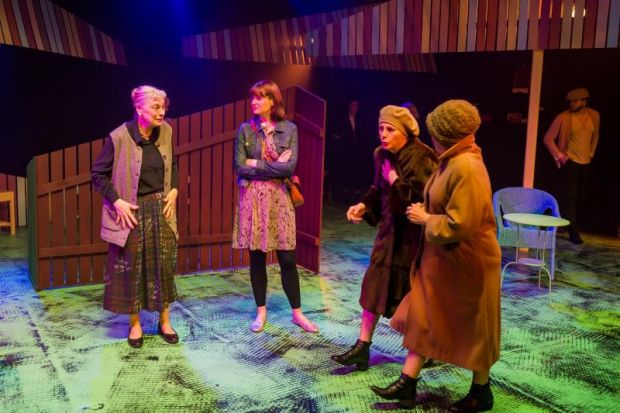 Louise Fischer's large cast take off when the play returns to the drama and pain of Ana's wartime childhood in Hungary, but other transitions between places and times drag on the pace. Tighter theatrical punctuation, and the required quick shifts in place and filmic focus, would be well served by greater lighting resources.
By the end when Ana finally accepts the friendship offered by a persistent Serb matron (Susan Jordan), the play delivers moving rewards.
Martin Portus
Photos © Chris Lundie