The Neighbourhood
By Todd MacDonald, Aleea Monsour and Ari Palani. Presented by La Boite Theatre Company, Multicultural Australia and Empire Theatre. Roundhouse Theatre, Brisbane. 8 to 29 February, 2020
The universe needs more productions like The Neighbourhood. In a world premiere for La Boite and Empire Theatres, this show's positive tone and sparky creativity is a welcome antidote to negativity and fear in discussions around immigration and racism. Here, the headlines are real people. The talented cast welcome everyone in, and draw on their own very personal truths to add humanity to the equation. Complex and painful stories are not shied away from, but The Neighbourhood is an excellent entry point for some to start a positive and meaningful conversation. Young people and adults struggling with their own cultural identity and sense of self will certainly feel a kindred spirit – as will ordinary people who believe in diversity and equality – if only there was a way for the non-believers to benefit from the healing properties of this show. It's a cool ingress, with a winning edge provided by the unique perspectives of its seven stars – local artists who have collaborated with co-creators, Aleea Monsour (independent artist and director) and Ari Palani (Empire Theatre's Youth Arts Director), to tell their story of Australia through their neighbourhood – what it was in the past, what it is now, and what they would like it to become.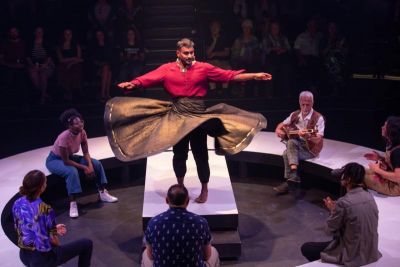 Australians of all backgrounds will find something to relate to (not just the performers' penchant for late-night binge music via RAGE). Tears of frustration for the heart-wrenching survival stories from Amer Joseph Thabet, Nima Doostkhah, and Cieavash Arean turn to tears of laughter at the brilliantly funny observations of Aurora Liddle-Christie about her family with heritage from Jamaica and Australia's First Nations people, Anisa Nandaula, an Aussie from Uganda with a wicked sense of humour, Indian-born LGBTIQ+ activist and dancer, Naavi Karan, defending the right to individual freedom fiercely – while dancing, and possessing the sweetest smile – and Matt Hsu calmly recounting his technique for becoming culturally invisible but a superhero thanks to the power of music. Many of the performers are musicians, poets and rappers and break up their stories with superb individual performances. Between them, Matt and Cieavash play a range of instruments, including piano accordion and cello as well as traditional Persian flute and setar. The performers are supported by an ingeniously simple and succinct stage design by Adam Gardnir that adds showcase energy and pace with its building-block form. Matched in their conciseness, Ben Hughes' lighting and Brady Watkins' sound design will undoubtedly make the show easier to tour and spread the positive word.
After the La Boite season, The Neighbourhood plays at Toowoomba's Empire Theatre on 27 & 28 March 2020.
Beth Keehn
Photographer: Stephen Henry