Nell Gwynn
By Jessica Swale. New Theatre, Newtown (NSW). Aug 7 – Sep 8, 2018
Jessica Swale's Nell Gwynn has the sort of knockabout, physical style you'd expect to see in Shakespeare's Globe – it's where this London hit began a few years ago.
It's a witty and bawdy travel through Restoration England when women were finally allowed on the stages and the Merry Monarch was chasing the best of them.
Spliced into fast scenes at court or front and backstage at the theatre, leavened with song and dance, the play also offers some tender and insightful subplots around King Charles' couriers, Nell and his other competing mistresses and between the actors.
In all, director Deborah Jones and her 16-strong cast delivers a richly entertaining and authentically detailed story. Bishanyia Vincent is true and comfortable as Nell, the fun-loving but straight-talking Cockney starlet, and in that is well-matched by Rupert Reid as the lead actor Charles Hart.
There are some great observations on the theatre through Steve Corner as the struggling writer John Dryden and, on the stage of life, Lloyd Allison-Young delights as the defiantly affable Monarch.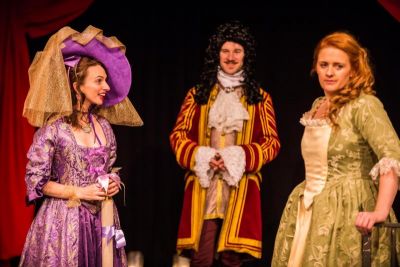 John Cervenka's set works well, with walls turning to these different worlds, yet the frequent scene changes still impede what should be the fast sweep and magic of this rollicking narrative.
And sure, there are amateur moments of stiff flatness and screech but generally the whole ensemble is clear, amusing and well-timed. And Deborah Mulhull defies a modest budget in dressing them so colourfully.
Nell Gwynn is yet another in that beguiling British tradition of plays celebrating the joy of theatre.
Martin Portus
Photographer: Chris Lundie