New York Dialects
The Australian Ballet. Joan Sutherland Theatre, Sydney Opera House. April 6 – 24, 2021.
The Australian Ballet finally returns to the Sydney Opera House with this impressive triple bill calling card from its new artistic director David Hallberg.
New York Dialects is a homage to two abstract neo-classical ballets from the Russian choreographer turned New Yorker, George Balanchine, and, sandwiched between, with teasing references to Balanchine, the premiere of a startling contemporary work from a frequent collaborator of Hallberg's, Pam Tanowitz.
Balanchine's Serenade is a mostly all-female reflection on moonlight, the dancers dressed in white touched with the blue of night, and staged here with a sharp eye for Balanchine's beautiful geometric interweaving and sculptural stillness. Backed by Tchaikovsky, the gestures arch skywards and yet in groups the women suggest a folk dance lineage which warms the slow crystal perfection of this 1930's work.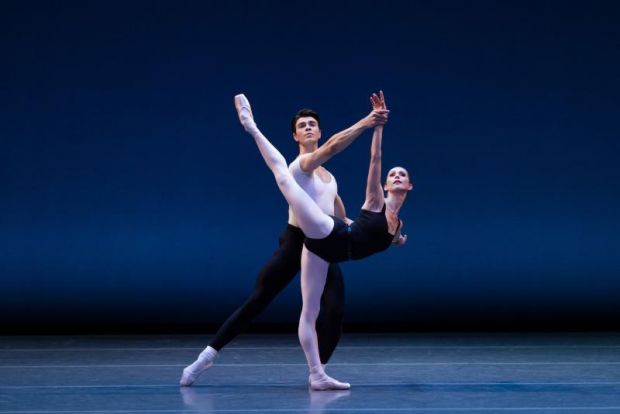 A decade and a world war later, the final work is Balanchine's The Four Temperaments, with the company giving body to the four humours once associated with Greek medicine, and although with the same precision, showing a jazzier, near pop cultural expression, the dancers gesturing like a sassy chorus line. Brett Chynoweth brings a dark psychological tone to the humour of Melancholic, while other humours are effusive, even to a waltz; and Adam Bull eventually cheers up into a melodious version of Phlegmatic. To Paul Hindemith's score, the end is a magnificently gestured procession.
Serenade, with its female dancers, is followed by Tanowitz's near all-male Watermark, with 18 dancers in cream white jumpsuits arriving from all directions, including the audience, onto a deep cavernous stage adorned with one huge draped curtain. Looking over their shoulder, searching their fellows for cues and new moves, they pogo jump, shuffle and leap into the discovery of group and individual expression. Whether wandering, or bent over and scuttling, or suddenly leaping into sequences precise and even classical, I've never quite seen the AB dance like this. Especially unforgettable is the solo from young dancer Adam Elmes, exploring his place in this black space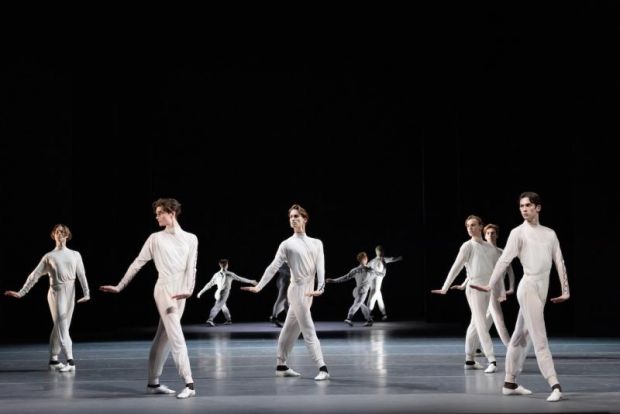 And Caroline Shaw's Watermark score is exhilarating, drawing on Beethoven and dominated by piano (Stefan Cassomenos and Duncan Salton). Credit also to production designers Harriet Jung and Reid Bartelme. David Hallberg is off to fine start.
Martin Portus
Photographer: Daniel Boud