Next Move 11
Chunky Move. Lauren Langlois & Joel Bray. Chunky Move Studios, Melbourne. Nov 9 – 17, 2018.
Next Move began ten years ago, creating opportunities for dance artists to explore and develop their own full scale productions.
This year we see two innovative experimental dance performances, Nether (Lauren Langlois) and Dharawungara (Joel Bray).
Nether is performed by Langlois, along with her dance collaborator James Vu Anh Pham. There is a strobe light beaming directly at the audience, diffusing into diagonal lighting. These two performers move within and out of the roving lights, criss-crossing through light and space. The impeccable lighting design (Amelia Lever- Davidson) and sound and video composition (Alisdair Macindoe) are vividly integrated, creating alternating realities that are mesmerizing, as they merge in a counter balance of striking and confronting physical performance.
Langlois had been toying with the idea for Nether during her Berlin residency back in 2017, inspired by dystopic science fiction stories and experimental theatre. It is a brave new venture for Langlois and she and Pham have managed to captivate the audience with this fascinating other worldly exploration of alienation, ending with a bright earthly reconciliation.
Dharawungara is an exploration of identity and what it means to belong to one's tribe. Joel Bray, a performance dance artist, offers an eclectic show involving spoken word and movement along with an open on stage collaboration with Naretha Williams, who is a First Nations experimental sound artist.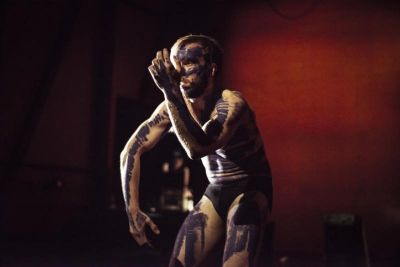 Bray delves into the colonization of the indigenous; he is of Wiradjuri, Scottish and English heritage. His central theme lies in the heart of the Australian self- taught anthropologist R. H. Mathews, who has been heralded for his accurate accounts of aboriginal practices and ceremony from the turn of the last century.
Bray is graciously blasé, speaks into a microphone and has direct connection with his audience, determined to raise awareness and represent the motley influences that have shaped his life. The space is scattered with allegorical bunches of netted black balloons. He tells us of the eradication of many tribes and the countless people who were part of the stolen generation.
Bray's poignant performance and commentary merges contemporary and ceremonial dance while Williams offers an array of punctuating sounds to reinforce meaning. This is a brave and thought provoking piece of experimental dance and sound performance.
Flora Georgiou
Photographer: Pippa Samaya