The Night Alive
By Conor McPherson. O'Punksky's Theatre in association with Red Line Productions. Old Fitz Theatre. Sep 13 – Oct 14, 2017
In the tradition of contemporary Irish theatre, Conor McPherson mixes humour and the macabre in this gritty black comedy. His characters are as graphically realistic as the cluttered, shabby room in which they meet – and under the direction of Maeliosa Stafford, they meet with the rhythm and cadence that make them uncompromisingly Irish in a play that moves frighteningly quickly at times – and just a bit slowly at others.
The set, conceived by Amanda McNamara, expands the 'unique' Old Fitz acting space, into a squalid, one room, downstairs flat with a corner converted for use as a bathroom. Littered with clothes and other personal debris, the room is rented by Tommy (John O'Hare) from his uncle, Maurice (Patrick Dickson) who lives above. As the play opens, Tommy has rescued Aimee (Sarah Jane Kelly), after she was beaten by her 'boyfriend'. Tommy is concerned. Aimee is wary. But she stays …
Kelly is convincingly feisty and cagey as Aimee, using McPherson's clipped dialogue to reveal the character's watchful awareness and wry humour. She is self-protective, and despite her seeming acceptance of Tommy, she never really lets down her guard – for good reason …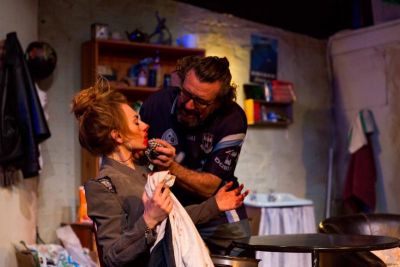 O'Hare is very natural and engaging as Tommy. He is ebullient, bright and enthusiastic, whether attending to Aimee's bloody nose, or coping with his friend Doc (Laurence Coy) who keeps stealing vegetables from Maurice's garden. O'Hare is light on his feet, moving deftly around the clutter, showing Tommy is comfortable in his own skin despite a failed marriage and two teenage children from whom he is estranged. He makes Tommy appealing, easy to trust, easy to believe.
As Doc, Coy is bumblingly disarming. He creates a character who is awkwardly open and frank, naively trusting, easily deceived but relentlessly resilient. Coy portrays him as a lovable rogue, shuffling into old age.
Patrick Dickson, however, faces old age more forcefully as Maurice. He is more worldly wise, more in control. It is he who cautions Tommy with the words " You only get a few goes. At life. You don't get endless goes. Two, three goes maybe. When you hit the right groove you'll click right in there … this is it". Dickson finds the mettle that has made this character stronger and more in control of his life.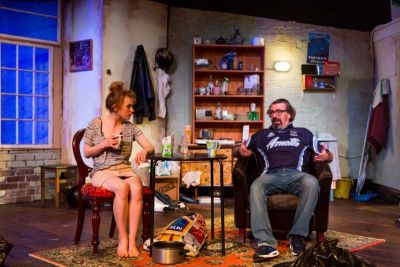 Despite Tommy's protection, Aimee's vicious boyfriend, Kenneth, finds her. Played by Darren Sabadina, this character changes the tenor of the play completely – and Sabadina does it extremely effectively. To say 'how?' would, unfortunately, give too much away.
McPherson uses the pauses, unfinished sentences and monosyllabic responses of natural dialogue as well as phrasing that lends itself to humorous delivery, that also seems very natural. Stafford's direction emphasises that naturalness in the blocking and the pace, and the complexity he and his cast have found in each of the characters.
To repeat Maurice's words, they have certainly 'hit the right groove'.
Carol Wimmer
Photographer: Rupert Reid