A Night's Game
Alleyne Dance. FORM Dance Projects. Riverside Theatres Parramatta. September 5 – 7, 2019.
FORM Dance Projects presents the premiere Australian performance of Alleyne Dance Team's A Night's Game at Riverside Theatres. Beginning touring in the UK, Kristina and Sadé Alleyene have taken this dynamic piece of dance theatre to over nine countries. Acclaimed for their eclectic use of styles to create works inspired by true life events, this performance explores dark images that reflect "the turmoil and strife of human emotion when faced with the prospect of incarceration".
Both dancers bring athleticism and contained strength and power to their performance. Carefully focused spotlights pick out isolated 'cells' in the otherwise dark space of the stage. In one a chair becomes a metaphorical prison where the performer suggests the disturbingly destructive – and possibly abusive – effects of confinement by a rising, drumming rhythm created by tightly choreographed body percussion … slapping, striking, thumping, stamping.
Punishingly physical, emotionally effective and intriguingly unusual, this symbolic piece of restricted choreography sets the tone and tempo of a performance where both dancers create the repressive tension of restriction and restraint, the psychological stress of enclosed spaces, and the debilitating desolation of despair.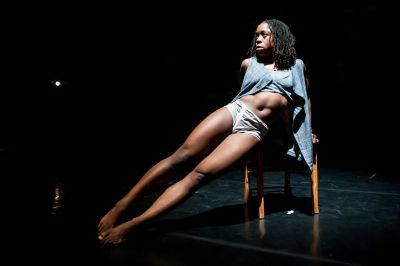 In some sequences they use space sparingly. Imprisoned in these moments, their movement is locked in, meticulous, exacting. In other sequences they move into the wider space of the mind. Hope or memory take them into a freer world, where they move with more abandon, the choreography faster, more lyrical, yet somehow, subtly, still repressed.
This performance exemplifies the essence of contemporary dance. The Alleyne sisters use the artistry and grace of movement to explore a controversial theme, and they do so in a way that is evocative analytical, hauntingly real.
Carol Wimmer
Photographer: Lidia Crisafulli