Nine
By Maury Yeston and Arthur Kopit. Director: Paul Treasure. Roleystone Theatre, WA. Nov 19 – Dec 4.
Many, many years after its appearance elsewhere, the musical Nine finally had its WA Premiere, with this fine version directed by Paul Treasure.
Solid musical direction by Sarah Cosstick leading a small live band and well-executed choreography by Emma David, backed a well selected and talented cast.
The single set, designed by Stephen Carr, was striking and beautifully constructed, and its multiple levels were well used.
Lone adult male in the cast was Paul Spencer as Guido, who handled this huge role with competence. Kimberley Harris looked at least fifteen years too young for her role as Guido's wife Luisa, but delivered a mature and moving performance. Priscilla Cornelius sounded lovely as Guido's mistress Carla, while Corinne Hands was centred and strong as Guido's formidable producer Liliane.
Rarely seen in musicals, Jodie Hansen was the quintessential Italian Mama, while Hayley Parker reveled in her role as prostitute Sarraghina.
Worthy of special mention is Clara Helms, an experienced and welcome newcomer to Perth community theatre. She looked and sounded exquisite as Guido's actress and muse Claudia.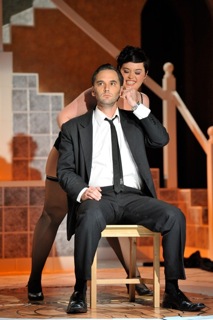 The women of the ensemble performed admirably in many small roles and numerous production numbers.
Act One costuming was almost perfect, but the choice to have some colour on Sarraghina, when everyone else was in black, was a little distracting. Act Two costumes included some interesting theatrical allusions.
A solid production, that looked beautiful, it was lovely to finally see this long overlooked musical in Perth.
Kimberley Shaw
Images: From top - Grand Canal, Unusual Way and Call from the Vatican