Ninety
By Joanna Murray-Smith. Directed by Marcelle Schmitz. Studio Underground, State Theatre Centre of Western Australia. July 1-17, 2011.
As William steps through the picture frame doorway of Isabel's art studio, she has exactly ninety minutes to convince him - her ex-husband, to return to her, rather than marry his younger girlfriend, in three days time.
Outstanding story-telling, this two-hander, featuring Paul English and Kirsty Hillhouse, was an organic blend of real and imagined and featured some of the best acting I have seen in a long time. The actors worked seamlessly with each other, created a believable history and were captivating throughout; despite a major disturbance in the audience on the night I saw the show. The play had to be stopped, but resumed with equal passion and focus, a tribute to the skill of two very talented actors.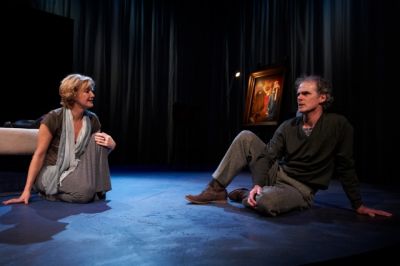 Carefully crafted by director Marcelle Schmitz, the relationship and links between the couple are reflected in all elements of the production. Bryan Woltjen's costuming links the couple to each other, to the couple in the painting being restored by art conservator Kirsty, and to his set, a womblike, cocooning studio. Trent Suidgeest's seamless lighting design guides the audience gently through flashbacks and the present, which gradually meld into one, while Ben Collins' sound design is subtle and supportive.
A most captivating play which, like the artists it portrays, is a valuable and moving piece of art. Like the art being restored by Isabel, the more you consider this play, the more you find.
Kimberley Shaw
Images: Kirsty Hillhouse and Paul English. Photogrpapher: Gary Marsh.
To keep up with the latest news and reviews at Stage Whispers, click here to like us on Facebook, or follow us on Twitter.