No Man's Land
By Harold Pinter. QTC and STC Co-production. Bille Brown Studio, Brisbane. 19 September-22 October, 2011.
Actors who have played Pinter will tell you his scripts are devilishly difficult to understand, and hard to memorise, if a director expects that of you pre-rehearsals.
But the moment you spark off each other in rehearsals you discover connections, meanings, subtleties, which flow together in Pinter's amazing verbal landscape.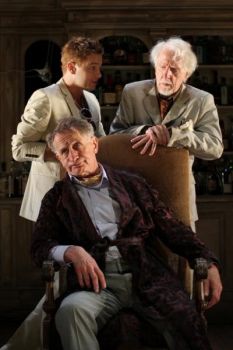 This cast and director Michael Gow have dug deep to achieve stellar performances from two Grand Masters of Australian Drama and two local Cocks of the Stage. This production transfers to STC at the Opera House. Subscribers, brace yourselves for a rare treat!
As the ageing literary dons, word-jousting through alcohol-hazy memories and forgetfulness, Peter Carroll (Spooner) and John Gaden (Hirst) command the stage with voice and presence. The action is set in Hirst's vast library with lavishly-stocked liquor niche. Hirst has a couple of minders: gym-toned, smirking, metrosexual Foster (Steven Rooke), and bulked-up, tough-talking Cockney, Briggs (Andrew Buchanan). Pinter provides us with double-menace in this play; each deals it out differently but effectively.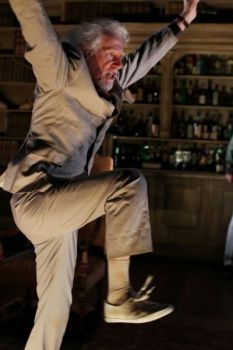 Robert Kemp designed an entire rear wall of books surrounding the liquor cache, but an otherwise Spartan acting space: comfortable leather armchair on a rug, two carved wooden chairs and lamps – lamps of all styles everywhere. Nick Schlieper's lighting (assisted by Chris Twyman) never intrudes but illuminates the action beautifully. Likewise, Tony Brumpton's discreet sound design.
Not for everyone, but for serious playgoers this production will have you talking about it for years.
Jay McKee
To keep up with the latest news and reviews at Stage Whispers, click here to like us on Facebook, or follow us on Twitter.