No Pay? No Way!
By Dario Fo. A new adaptation by Marieke Hardy. Sydney Theatre Company. Drama Theatre, Sydney Opera House. Feb 10 – Apr 4, 2020.
The audience was greeted by the exterior of a non-descript double storey apartment block in Italy in the 1970's. What happened to the façade, to bring us inside the working class abode was positively thrilling – especially for those sitting near the front.
No Pay? No Way! is set in the aftermath of a riot/protest that has taken place in a local supermarket. Outraged that prices had doubled overnight, the women of the suburb take matters into their own hands. We never see the riot, but are given a vivid taste of the free for all which took place.
It was fascinating to read that such was the authenticity of the events portrayed, that the play when first released in Italy in 1974 prompted an actual riot in a supermarket when prices did double.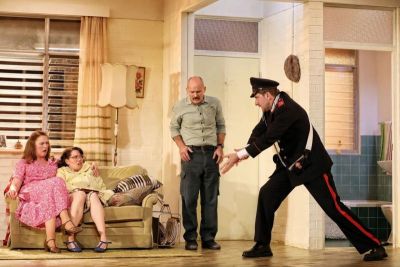 In the first act the leading ladies Antonia and Margherita, played deliciously by Helen Thomson and Catherine Van-Davies, are frantically trying to hide their ill-gotten loot from their dim husbands. Everyone in town is suddenly pregnant including 80-year-old women hiding their loot under their dresses.
At one level there is some slapstick comedy which brought deep belly laughs from the opening night audience – especially the most hilarious attempt at CPR that you could imagine.
On another level there is an insight into the struggles of working class people and the plight of women. Updates from Australian writer Marieke Hardy brought these into sharper focus.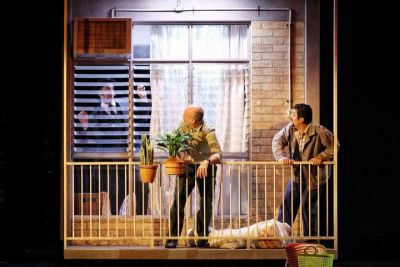 The men in the play were portrayed with equal panache. Glen Hazeldine as Giovanni had a memorable close encounter with some dog food, which was pinched from the supermarket in the rush. The other husband (Luigi) Rahel Romahn had a gorgeous Italian accent and a mania which was magnetic. But the biggest laughs were milked by Aaron Tsindos in a multitude of characters including a lowly Sergeant, with an endearing sympathy for the housewives, and a cynical Inspector.
In the second act the fourth wall was broken and so too was the set, and it felt like theatre sports on heat.
The husbands so outraged at the behaviour of the women in the town then also become morally compromised.
A rousing opening night standing ovation washed over any implausibility.
David Spicer
Photogrpher: Prudence Upton.