Noah, Moses and Jonah
Sight & Sound Theatre. Featured on BroadwayHD.com
At the start of the Covid-19 lockdown I received many excited messages from friends telling me of BroadwayHD.com, a streaming service dedicated to performing arts. The channel has a diverse range of titles from traditional live musical theatre and movies to plays and concerts. Dozens of titles include performances from Hugh Jackman (Oklahoma!), David Hasselhoff (Jekyll and Hyde), Zachary Levi (She Loves Me) and the complete Nunsense series.
However, the three titles that have caught my attention big-time are Noah, Moses and Jonah by Sight & Sound Theatre. I had never heard of this company before, but after watching these shows I can't get enough. Think of the biggest spectacle musical you've ever seen and then triple it! Sight & Sound take theatre to a new level. Every show is an epic experience with a meaningful message, where edge of your seat action meets heartfelt drama. These Bible based musical plays take over 3 years planning and 600 staff to bring to fruition.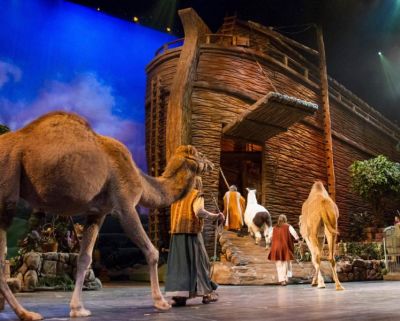 Over 50 performers and dozens of live animals perform on a 300 feet wide stage that wraps around a live audience of over 2,000. Noah features live animals coming down the aisles to enter the giant onstage Ark. Moses' staff becomes a snake, the 10 plagues are brought to life by incredible special effects and the parting of the Red Sea is so realistic you'd swear there is water onstage. It has to be seen to be believed! In Jonah a huge fish glides seamlessly over the audience seated in the stalls. The special effects, gigantic sets, intricately detailed costumes and soaring orchestral music with live singing and dancing are a feast to the senses.
This is Cecil B. DeMille on steroids!
Today, with a decade of operating two theatres, producing and premiering a brand new show every other year and designing each production to travel between Lancaster PA and Branson MO, what began with a dairy farmer and his wife, a few slide projectors and a passion for creativity, Sight & Sound has grown into one of the top theatre destinations in the USA.
A monthly subscription to BroadwayHD.com just to watch these three shows is worth every dollar!
Jonathan Cox