Noises Off
By Michael Frayn. Sydney Theatre Company & Qantas.. Director: Jonathan Biggins. Drama Theatre, Sydney Opera House. 17 Feb - 5 April 2014
Jonathan Biggins' crackerjack production of Michael Frayn's famous play ('The funniest farce ever written!', according to the posters) is a must for theatre people of every level of experience. Haven't we all dried on stage? Haven't we all had to climb through the rickety window because the door was stuck? Haven't we all had a thing for the ASM on the book?
Frayn's delicious idea — written in 1982 but much edited since, rewritten, tightened, edited again — was to write a farce about a second-rate team of English pro-theatricals mounting a third-rate tour of a fourth-rate farce called Nothing On.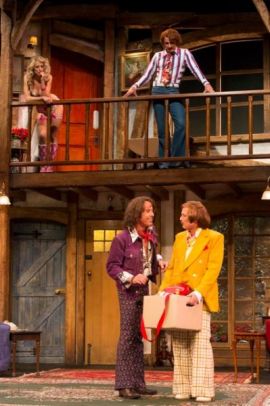 Eventually everything that can go wrong does go wrong, not only to the 8-door setting (hilariously tatty design by Mark Thompson) but within the bored and increasingly irritated company, lead by former TV star Dotty Otley (spot-on from Genevieve Lemon who has fun mixing the cockney of her on-stage character with the posh tones of her increasingly exasperated off-stage self).
The eyeball-pokingly bright costumes by designer Julie Lynch add to the increasingly desperate mix. STC Director Biggins has set the scene squarely in the mid-1970s, a time of acknowledged excess, which means the off-stage crew — Director (Marcus Graham), ASM (Danielle King) and SM/Understudy (Lindsay Farris) — are just as garishly dressed as the on-stage characters. Bell-bottom trousers and shoulder-length wigs are the order of the day.
Josh McConville, as Dotty's latest fancy, drives the play along with some excellent physical work. Ash Ricardo spends most of the night in her underwear while expertly channelling the vocal mannerisms of Betty Spencer, long-suffering wife in the 70s TV farce/series Some Mothers Do 'Ave 'Em.
Thompson's huge setting is a constant joy, especially when it revolves in vision for the final fed-up, couldn't-care-less bolt through Nothing On that brings the curtain down with a crash.
The opening night house was full of Sydney actors and theatre-luvvies. They absolutely adored it. If there's theatre in your blood, so will you.
Frank Hatherley
Images: Ash Ricardo, Tracy Mann, Josh McConville and Alan Dukes; Ash Ricardo, Josh McConville, Marcus Graham and Alan Dukes; Ron Haddrick, Tracy Mann and Alan Dukes; & Genevieve Lemon, Josh McConville, Danielle King, Ash Ricardo, Marcus Graham, Tracy Mann and Alan Dukes in Sydney Theatre Company's Noises Off
© Brett Boardman 2014