Noises Off
By Michael Frayn. Canberra Repertory. Directed by Cate Clelland. Theatre 3, Acton, Canberra ACT. Nov 17 – Dec 3, 2016
Noises Off is an amusing farce in the best British tradition. Doors open, get jammed shut, or hide suspicious persons. Plates of sardines come and go, and come back again. And this farce revolves around a hoary old farce "Nothing On", presented by a tired British repertory company. No number of exclamations of "Sweet!" "Dear" and "Darling" can make up for the errors that come about from repertory members falling in love, battling alcohol, and dealing with a broken heart.
Cate Clelland has created a sparkling, witty production with liberal dollops of physical comedy and mime. The second act, set backstage during a matinee performance of "Nothing On" is frantic and chaotic (while being totally under control), showing major plot points through hand-waving, prop-moving, and many exits and entrances. Truly, the entire cast must be very fit to go up and down the stairs so many times and so quickly!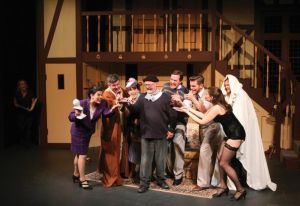 Andrew Kay plays the delightfully dotty (though inebriated) veteran actor Selsdon Mowbray, whose non-sequiturs and timing are most amusing. Lainie Hart plays Dotty Otley with impeccable timing. Lewis Meegan plays Garry Lejeune and Alex McPherson plays Brooke Ashton.
Mention must be made of the set which was designed by Quention Mitchell. It is a double-sided set that revolves around for the second act. Indeed, it practically deserves a listing as a cast member, given its prominence and how essential it is to the narrative. Costumes were designed by Kitty McGarry.
A most entertaining finish to a season of consistently high standard at Canberra Repertory.
Rachel McGrath-Kerr
Photographer: Helen Drum