NSFW
By Lucy Kirkwood. Directed by Tanya Dickson. Red Stitch Theatre, St Kilda (Vic). Nov 22 - Dec 21, 2013
Red Stitch have done it again; married a well written and controversial new play with a stellar cast for an exhilarating production.
Lucy Kirkwood's 80 minute play examines the objectification of women, by both men and their own gender, in the print media (though why just print, which is a dying medium, I am at a loss to understand). The characters are archetypes and easily recognisable, but played with great finesse in this instance. Philosophically the play is spot on, structurally it's not so successful because all the "meat" is in the first half, and the second half is far more insidious, but ultimately less satisfying.
What would (and should) be Act One sees us in the offices of The Doghouse, a soft porn magazine that men claim to read "for the articles." The magazine has printed a topless shot of a girl who turns out to be only 14 and the excrement is about to make physical contact with the oscillating air device.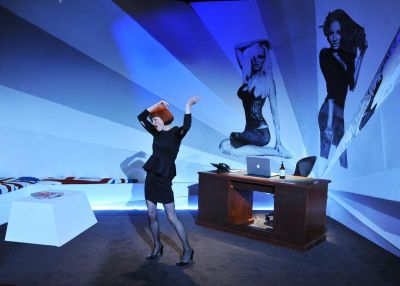 The dazzling Ben Prendergast (last seen here a few months ago in Straight) brings us editor/magazine chief Aidan; driven, hungry, ruthless but with a tiny streak of decency…or is it merely self-preservation? Prendergast's presence is always compelling; he's an actor of authority with an anarchic edge bubbling just beneath the charm, whatever the role. When confronted by the girl's father, brilliantly realised by the wonderful James Wardlaw (a delight to watch in anything) the emotional stakes are raised past boiling point and what ensues is a monumental battle of great acting in the miniscule performing space. It's mesmerising, and worth every cent of the ticket price. Bravo to the two actors and director Dickson. But often extreme emotions are far easier to play than doubt, guilt and uncertainty. Matthew Whitty subtly plays all three as Sam, the young idealist (desperate to be a writer) who is horrified that he chose, as a sexual object, the photo of a child. His is a beautifully measured performance as his career choice bends, and ultimately breaks, his integrity and his spirit. He simply gets better in every production and is one of the most impressive young actors currently in the Melbourne scene.
Mark Casamento as Rupert, the Eton fop; and Kasia Kaczmarek as Charlotte, super smart and a feminist but nevertheless having an affair with the reprehensible Aidan, are both excellent and add weight to the gifted cast.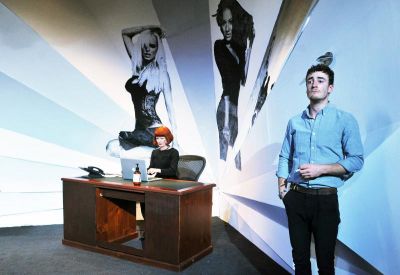 In the second half - which arguably should be Act 2 – the charismatic Olga Makeeva devours the role of Miranda, a menopausal monster of a woman who runs "Elektra", a magazine which purports to empower women but actually manipulates and denigrates them. Despite Makeeva's terrific performance, and the heartbreaking truth of Whitty's Sam losing his self respect through his need to have a job, there seems to be something lacking in the script. It simply doesn't pack the punch of the first half, even though Miranda is far more despicable than Aiden, and less forgiving of her own sisterhood. It has an air of being incomplete, in a writing, not performance, sense.
Tanya Dickson's direction throughout is always thoughtful and sometimes inspired. The set and costume design by Eugyeene The, and lighting by Clare Springett are excellent. This is yet another feather in the cap of a company that consistently punches above its weight. I can't wait to see what next year will bring.
Coral Drouyn
Images (from top): Kazia Kaczmarek, James Wardlow and Ben Prendergast; Olga Makeeva, & Olga Makeeva and Matt Whitty. Photographer: Jodie Hutchinson.