The Odd Couple
By Neil Simon. Ensemble Theatre, Sydney. Director: Mark Kilmurry. 22 November – 29 December 2019
Neil Simon's spectacularly famous New York comedy gets the Christmas call this year at the Ensemble. After playing two years on Broadway (starting 1965), there was the brilliant film starring Jack Lemmon and Walter Matthau, followed by 5 seasons of TV follow-ups (1970-75), further TV adaptations, plus 2 rewrites for the stage. It's Simon's most famous play, drenched with gags and one-liners, and the Ensemble - with 8 players on a nifty, packed setting (by Hugh O'Connor) of a 14th floor Upper West Side flat ‑ throws big resources into this production.
The 'odd couple' are relaxed, slobby Oscar (Steve Rodgers) and uptight, precise Felix (Brian Meegan), who come together in a moment of Felix's dire need: he's been thrown out of his house by his distraught wife (and who can blame her?). Of course the laughs should all stem from the unlikelihood of this paring, but the surprise of this production is how robust is the comedy from the others in the cast. The four card-playing mates who gather for their regular ultra-cheap games are great characters, and the two chirpy Londoners – the Pigeon Sisters, inveigled into tasting Felix's home-cooked meal — are spectacular fun.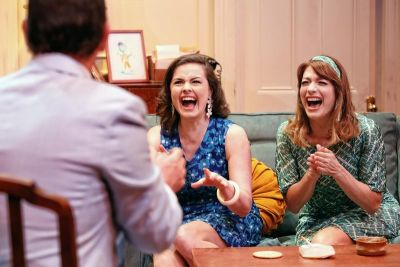 There's Murray, the caring plain-clothes cop (James Lugton); Vinnie, who nervously wins all the card games (Nicholas Papademetriou); big sarcastic Speed (Laurence Coy); and Roy, blessed/cursed with exceptional smell (Robert Jago). Their scenes are cracking. And after the interval we meet the Pigeons, loud and full of fun. Gwendolyn (Katie Fitchett) and Cecily (Olivia Pigeot) bring a sharp, ready-for-anything boost to proceedings.
When the wheels of this famous setup get rolling it's clear that Oscar and Felix will boom and bust their way to an inevitable conclusion. Rodgers is good as the grubby sportswriter turned unwilling host; Meegan ticks all the boxes of the prissy, self-doubting nag ('I'm impossible to live with'). You await the outcome: but when it comes, there is a feeling of regret. What was news in the 60s and 70s and 80s needs some clarifications and work nowadays.
Mark Kilmurry's direction is fine as he navigates his cast round the squashed-together furniture.
Frank Hatherley
Photographer: Prudence Upton