Often I Find That I Am Naked
By Fiona Sprott. A Critical Stages and Jo&Co Production. Judith Wright Centre of Contemporary Arts, Brisbane. 27-29 October, 2011.
Sex sells? You betcha!
This revue on a theme of sexual contacts and interaction in the 21stCentury opened its short Brisbane season last night to a house full of enthusiasts. Judging by the laughs, most recognised the awkward moments and embarrassing situations. They'd been there.
The show is slick, polished, and entertaining with James Dobinson at the piano and keyboards providing music, songs and 'alcohol' to accompany the action.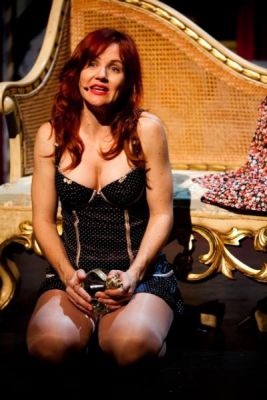 Sam Clarkis versatile, plays instant stereotype males and over-the-top sexual performances (simulated – and that was sufficient, thank you!) in the various sketches. The dog humping the houseguest's leg was a gem!
But this is Jo Thomas's show. This petite dynamo with big hair was an everywoman of recent decades, trying to cope with the modern rules (or lack of) in the courting game.
Josh McIntosh's eye-catching set, Andrew Meadows' lighting design, the sound operation (not attributed in the programme), and the stage crew, all contributed to the impact of the show.
Director, Shane Anthony's deft touch yet tight control hurtled the show along at break-laugh speed.
Amid all the laughter and roistering, a sad picture of confusion and loneliness emerges. It's a dangerous emotional jungle out there. Lots of action but precious little love.
Great entertainment, but don't take the puritans!
Jay McKee
To keep up with the latest news and reviews at Stage Whispers, click here to like us on Facebook, or follow us on Twitter.