Oklahoma!
By Rodgers and Hammerstein. Nova Musical Theatre (Vic). Director: Noel Browne. Musical Director: John Clancy. Choreographer: Jonathon Robinson.
Oklahoma! is credited with changing the form of musical theatre forever, considered by many to be the first musical comedy where plot, musical score and dance were all necessary to advance the story line.
Set in Oklahoma when it was a territory on the verge of statehood, it tells a story of farmers and cowhands, intermixing a love story with tragedy and humour.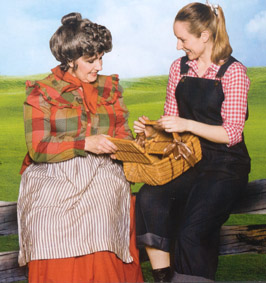 Nova Musical Theatre had a magnificent set featuring a farmhouse and windmill, all very solid, while the farmhouse reversed to reveal the smoke house, where the farmhand Jud lived.
The feature characters, the young lovers, Curley (Ashley McPherson) the cow hand in love with Laurey (Kelly Windle) the farmer, worked so well together as a couple, one believed they were really in love. Not only is Kelly a wonderful performer, she has a beautiful voice. In addition to her acting and singing talent, her dancing added to the evening.
Aunt Eller, the mainstay of the show, was given a wonderful portrayal by Anne Dewar, who captured the essence of a character respected by farmers and cow folk alike.
Matt Jakowenko, as the cowboy Will Parker, and Lauren Seymour, as Ado Annie, made a good team. Both worked well together, while the energy of the Oklahoma Hello scene was amazing.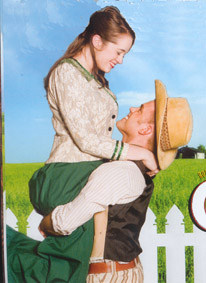 Farmhand Jud Fry, played by Brendan Coppa, represented the dark side of the story. Coppa is a good actor and singer. The scene in the smokehouse, with Curley and Jud singing Pore Jud is Daid, was unforgettable.
Dean Pearcey gave a wonderful portrayal of travelling salesman Ali Hakim, providing the light relief, capturing the comic role with expertise and causing much laughter.
One of the best scenes in the production was Laurey's dream sequence, a very moving and dark piece, for which the lighting designers, along with the costume designers, deserve praise for a magnificent job. Congratulations also to the sound engineers, with voices coming over without the distortion that seems only too common these days.
A well executed production with a high standard of singing, dance and music.
Peter Kemp