Oklahoma!
By Rodgers and Hammerstein. Manly Musical Society. Director: Dave Izzard. Musical Director: Chris Bennie. Choreographer: Jess Grimmond. Star of the Sea Theatre, Manly. May 18 – 26, 2012.
Manly Musical Society is an enthusiastic youthful community company, presenting a small-scale production of Oklahoma! with a company of just 22 performers.
Some talented principals provide the highlights of this bare bones staging, with the training and professional experience of a quartet of the leads coming to the fore.
In the evening's most engaging performance, Charles Sturt graduate Danielle Anthony-Goodwin nails the naïve coquetry and comedy of Ado Annie in a bright, sassy performance.
As swaggering leading man Curly, WAAPA graduate Christopher Lewis gives an assured portrayal, singing impressively. Opposite him, Sarah Dwyer, currently a music theatre student, sings the role attractively, creating a nicely balanced characterisation in her first leading role. It's a credible central romance. Christina Stagg is a bustling, salt-of-the earth Aunt Ella, though as with other characters who aged up, her grey hair seemed a little overdone.
Anthony Swadling plays travelling salesman Ali Hakim with dry, well-timed wit.
Raymond Cullen's Will Parker is energetic and likeable, but his stagecraft disappoints. Apenera Tupon sings Judd's songs well, but lacks genuine menace.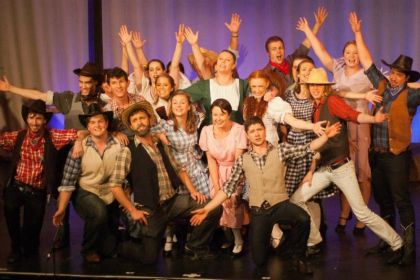 This really is a very small production if you're used to an Oklahoma! populated with big rousing ensembles, and surrounded by evocative settings.
The set is as basic as you can get on the whole – some bales of hay and rostra with minimal props and decorations. Colourful dresses and western outfits are relied on to set the scene.
With an approach so simple, though, the devil as they say, may be in the (limited) detail.
Judd's shed is the only part of the set depicted in any detail, and here, less might well have been more - a very prominent hook from which Curly suggests Judd hang himself is so low that suicide is clearly impossible. The Oklahoma sky, like so many cloths before it, ripples distractingly as cast or crew rush past, while, given the simplicity of the setting, several blackouts were hard to fathom.
In an age of revisions to classic musicals, perhaps it's time that the Rodgers and Hammerstein Organisation looked at an alternate ending to Act One, instead of the music created for Agnes de Mille's iconic, tough to replicate Dream ballet, especially for small casts with limited dancers. Elsewhere Choreographer Jess Grimmond created effective dance and movement, enthusiastically hoofed by the company. Why, though, in the iconic title song, is a mime story about a petulant girl who doesn't have a partner allowed to grab focus. For me, ending Oklahoma! without that long-anticipated Surrey also feels anti-climactic.
Chris Bennie's orchestra, while smallish, serves the score well.
The production clearly struck a chord, though, with Oklahoma! first-timers in the audience. Laughter, as well as outbreaks of applause in mid-song pauses on occasion, from audience members obviously new to the piece, serve as a reminder that the classic musical retains its power to please.
Neil Litchfield.