Oklahoma!
By Rodgers and Hammerstein. Miranda Musical Society. Director: James Worner. Sutherland Entertainment Centre. March 19 – 23, 2014.
Close your eyes and try for a moment to erase 70 years of musicals from your memory as Paul Holmes' orchestra strikes up the first strains of the lush overture of Oklahoma!
All those decades on it's hard to shake labels like classic and landmark, and a reputation in some quarters for being a bit folksy and old-fashioned, but the revolutionary 1943 show that changed musicals forever is still a treat.
The overall delight of James Worner's production for Miranda Musical Society is that this community theatre production manages to balance a regard for tradition with freshness and youthful vitality.
Continuity and youth both contribute in a big way.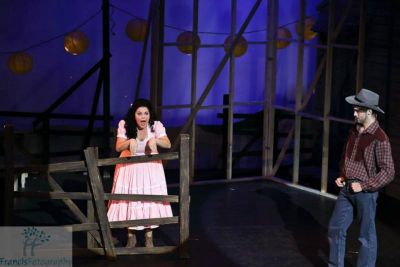 Classic, a rustic farmyard and outbuildings, inimitably designed by Bob Peet, complement the well-loved melodies of the overture as a first image. Not only picture perfect, it's a functional design ensuring a smooth transition to the best version of Jud's smokehouse I could imagine. Small wonder Bob knows just how to make this show work, when you consider his association with it stretches back to performing in the Sydney amateur premiere in the late 1950s. Brother Col Peet illuminates both design and production effectively.
As the lights go up, Aunt Eller still sits churning as we hear an off-stage baritone sing the iconic opening of "Oh What A Beautiful Mornin' ".
Now for the first piece of perfect casting – WAAPA graduate Eden Plaisted swaggers on as Curly, cocky and full of cheeky banter with Anne-Marie McAdams' warm, knowing Aunt Eller. The romance between Laurey and Curley must matter for the show to work, the chemistry must be just right, and in a second great piece of casting, not only does Rebecca Carter nail Laurey's balance of vulnerability and independence, but the texture of the relationship between Laurey and Curly prickles, then softens, then sparks, with tremendous credibility. Both performers plumb the lyrical riches of the Rodgers and Hammerstein score. Ten minutes make it clear we're onto a winner.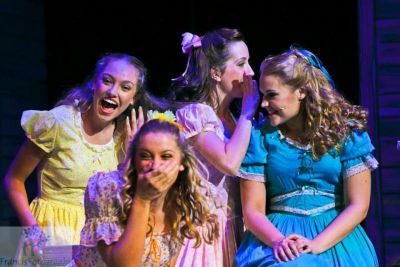 Elsewhere the casting and direction has toned down broad stereotypes of comedy and villainy, mostly to the show's advantage. Sally Redman's flirtatious Ado Annie remains very funny, but she plays more for humanity and less for nailing the gags than many portrayals. It's a warm, engaging Annie, splendidly sung, making the interpretation of her scene with Laurey in Act 1 the best and most illuminating of both characters I recall.
'Traditional' interpretations of Persian peddler Ali Hakim have begun to seem more and more politically incorrect, and a bit forced, yet pulling back the stereotype a little, his lines remain just as funny in Andrew Jackaman's hands.
Removing any blatant, melodramatic villainy, James Jonathan's Jud Fry becomes a morose loner, and elevates a quieter, palpable menace.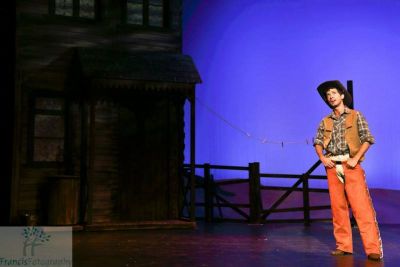 Possibly the only thing I missed in this approach was something more of the hayseed yokel in Tyler Hoggard's confident, appropriately garrulous and gregarious Will Parker.
Much of the feel of the show, though, doesn't stray too far from the trodden paths. Choruses and dances feel deliberately safe and familiar in style, but a vibrant young ensemble, and apt, energetic choreography, imbue them with exuberance.
Laurey's Dream ballet at the end of Act 1 is indispensible, yet groundbreaking as it was in 1943, it really needs to be trimmed for contemporary tastes, while still telling its story. At about half the length of some versions I've seen, choreographer Jo Ansell's re-working told the tale of Laurey's hopes and fears effectively and economically.
Miranda's production team and young community theatre cast get the tradition, but infuse it with verve and freshness. It's a great chance to revisit an old favourite, or for first-timers to check out the show which first put the 'mega' in musicals.
Neil Litchfield
Images: www.francisfotography.com.au