Oliver!
By Lionel Bart. St George Theatre Company / Rockdale Musical Society. Hurstville Entertainment Centre. March 1 – 10, 2013.
Dickens' story of an orphan who finds a loving home, after a detour via London's 19th century Underbelly, and the songs from Lionel Bart's musical version, need little introduction.
Darkened in mood for the 1990s Sam Mendes / Cameron Mackintosh production, with atmospheric orchestrations and pruning of its musical comedy elements, it's now probably closer to a contemporary music theatre piece than the effervescent 1960 original.
Col Peet's production flows smoothly throughout. Sydney community theatre's set design doyen Bob Peet provides an impressive fixed set, with additional elements flown or trucked in as needed, ensuring fluidity, helped by precision work from the stage crew.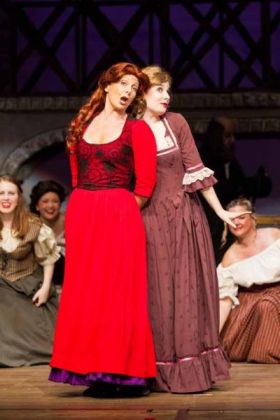 After the mood is set during a prelude, this Oliver! really gets underway, as do all productions, with a lively little army of kids (in this case both girls and boys) for 'Food, Glorious Food'.
The orphans are generally less synchronized and played with more individuality in this production than in some others I've seen. But were some of the kids a little overawed by opening night? Some supernumerary children, who apparently only added to the mix a few rehearsals beforehand, were a little shaky in their moves.
On opening night, sweet-voiced, aptly-named Oliver Noakes gave a quiet, gentle interpretation of the title role which he plays at alternate performances.
Geoff Gordon and Cathy Boyle effectively characterised workhouse custodians Mr Bumble and Widow Corney. Graham Egan's undertaker Mr Sowerberry was macabre enough, though his lack of a singing voice became evident in contrast to the strength and confidence of Cheryl O'Brien as Mrs Sowerberry in their song. Mike Lang's Noah Claypole, broadly and appropriately common, paired nicely with Lucienne Weber's Charlotte.
Minor opening night niggles included spoken word being lost to underscoring in the workhouse and undertaker scenes, my sole complaint related to David Lang's stunning orchestra.
When Jack Paterson (Artful Dodger on opening night) burst on the scene for 'Consider Yourself', he brought animation and energy, in combination with the small adult ensemble, particularly an exuberant troupe of troubadours.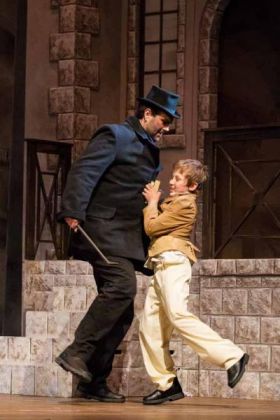 Shift to Fagin's subterranean den. Osman Kabbara's naturalistic Fagin carefully avoided caricature, using less pantomime than usual in the choreography of his numbers with the pickpockets (making a late show sight gag involving scenery movement jarr).
The show's pulse leaps instantly when Charmaine Gibbs, charismatic and vocally outstanding as Nancy, appears on the scene, and the production gains real impetus. She's joyously supported by Jade Schofield as her offsider Bet. Gibbs places Nancy's tragedy firmly at the heart of the production.
Bill Sikes (Andrew Symes) makes a powerful, dramatic first entry, effectively establishing the brutal menace to come.
An interesting decision to stage the chase in the Act 1 finale in slow motion might have been somewhat more effective supported by a strobe or other technical effect.
Act 2 of Oliver! charges along with an inevitable momentum, which this production spiritedly captures. Along the way old stagers Ralph Bott (Mr Brownlow) and Malcolm Gregory (Dr Grimwig) contribute effectively in supporting roles.
Minor opening night hiccups and insecurities (and there were a few) can be put into perspective as nerves and the result of extremely limited rehearsal and technical time available in venues like Hurstville Entertainment Centre leading up to opening night, in a production which is certain to gain assurance as the season proceeds.
Neil Litchfield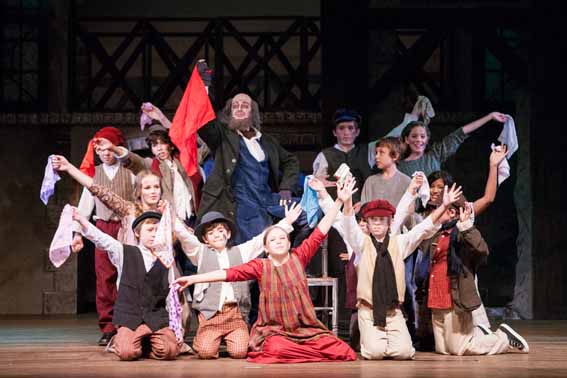 Photographer: Grant Leslie Perfect Pictures