Once
Book by Enda Walsh. Music and lyrics by Glen Hansard and Markéta Irglová. Based on the film by John Carney Darlinghurst Theatre Company at Eternity Playhouse, Sydney. Director: Richard Carroll. 4th June – 18th July, 2021
Back to the fabulous Eternity Theatre in Darlinghurst, Sydney, comes this inventive production from 2019, with the little matter of a global pandemic intervening since we saw it last. Now, as the mist clears, we can see clearly what Once has to offer: a touching love story, great songs, compelling characters and inventive stagecraft. I feel better already.
The Playhouse itself has been togged out well, with a 4-piece band tootling away before the main event. Inside the tootling becomes a riot of musicians as Dubliners meet Czech immigrants in a pub and the dejected Guy (Toby Francis), about to pack in his guitar for good, meets the unnamed Girl (Stefanie Caccamo), an inspiring immigrant who plays the piano. Before long, they are composing together, specifically the brilliant 'Falling Slowly', and the pub is about to explode with talent.
Forget a show band, this talented cast play all their instruments themselves and, while they're about it, handle some marvellously impressionistic choreography by Movement Director Amy Campbell (who returns later in the year for the much anticipated A Chorus Line.)
All would be lost if we didn't root for the central couple, sensitive takes on people who aren't that easy to play. Guy is a passive romantic, but Toby Francis's mix of vulnerability and strength, not to mention a terrific singing voice, give him dignity. Stefanie Caccamo has a dry Czech humour and, dressed in her plain orange jumper like an Iron Curtain urchin, brings the house down with her music.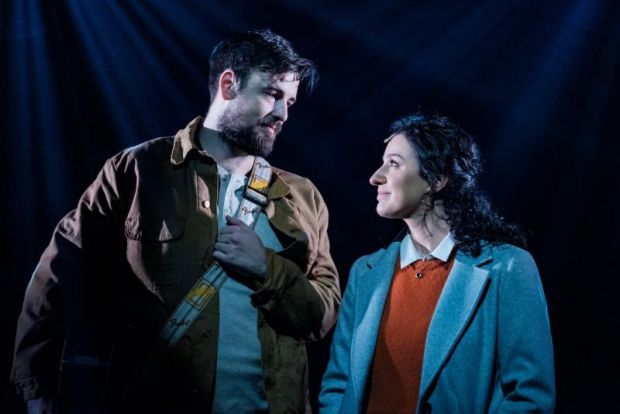 Among the talented cast are Drew Livingston as the easily manipulated Bank Manager, Jay Laga'aia as Guy's father, and Victoria Falconer as the passionate Raza.
Lighting by Peter Rubie is terrific, as is the sound design by Dylan Robinson. The direction by Richard Carroll makes this a sure-fire gem of a show. I have never seen an audience so swiftly and so completely rise to their feet.
Frank Hatherley
Photographer: Robert Catto