Once on This Island
Book & lyrics by Lynn Ahrens, music by Stephen Flaherty. Presented by Altitude Theatre. La Boite Theatre, Brisbane, 28 April to 8 May, 2021
Fresh from their sold-out season of The Producers at the Brisbane Powerhouse, Altitude Theatre follows up on their mission to give Queensland audiences superb locally made, music theatre experiences. This time they are at the creative hub at La Boite Theatre, showcasing a jewel-like array of Queensland-based talent, many of whom have performed internationally, and certainly would be at home on stages in the West End and Broadway.
With Broadway taking tentative steps to test safety protocols, and stage seasons promising to reopen in London from around mid-May, this revival of Once on This Island is a reminder of how lucky we are to have our casts and crews back on the boards where they belong.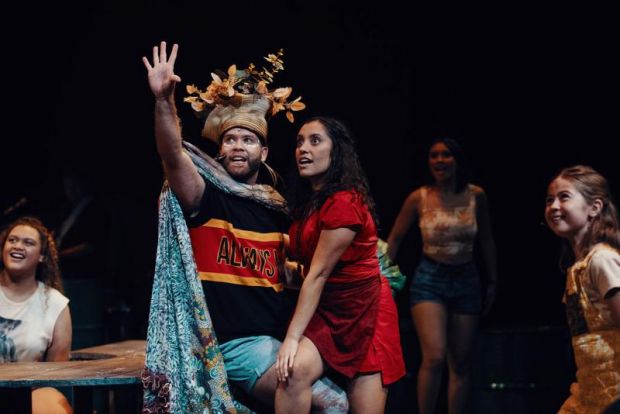 In La Boite's intimate in-the-round space, set design by Madeleine Barlow, costumes by Ella Lincoln, lighting by Ben Hughes and sound design by Jackson Scandrett transport us to a hurricane-swept island. The opening number 'We Dance' is a joyous celebration of island life - in particular the local community's ability to survive, reboot, and thrive, through shared stories and songs.
As the part-fairytale progresses, the story unfolds in song. The play's 20-plus musical numbers show off our glittering homegrown talent - a cast of multi-skilled dancers, actors, singers, writers and directors - graduates from performing arts courses from as far afield as New Zealand, from Sydney, Ballarat and local creative centres such as Queensland Conservatorium's Musical Theatre course. Honestly, with this much professional training and performing credits from stages across Australia, this is a most accomplished cast - all give strong performances and are energising to watch. Their diverse ethnic backgrounds support Director/Choreographer Bree Langridge's vision of a tale that focuses on the importance of the storytelling tradition. Musical Director, Kuki Tipoki reinforces this by drawing on indigenous influences to provide a rich musical experience.\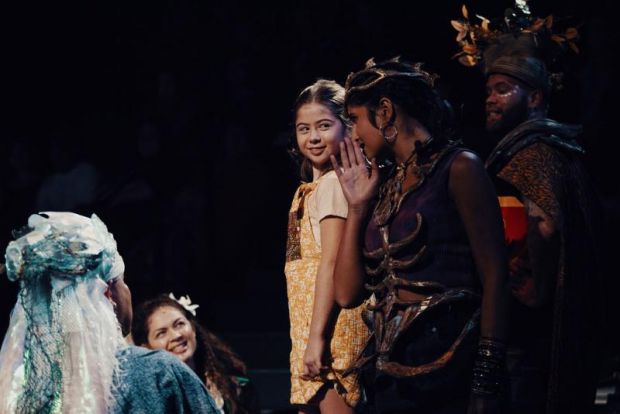 It's difficult to single any one performer out - they are all a joy. But the leading performers have to be given special mention. In particular, Rockhampton-born Lorinda May Merrypor as lead character, Ti Moune, is simply stunning. She shines in the lead role, on stage for most of the 90-minute running time - except when the character is played at a younger age by Adelaide Arkins (joined for this shared role through the season by Tia Godbold and Harriet Naidoo). Ti Moune must capture the audiences' hearts and hold this play together, and so the performer has to be likeable, enigmatic, rebellious, spirited all at once. Merrypor encapsulates all these traits with an ease of movement in her dance, and a voice as clear as a bell. Her standout song is 'Waiting for Life' - surely every teenager's theme tune.
Merrypor is skilfully supported by two warm and engaging performers playing Ti Moune's parents - the gorgeous and rich-voiced Asabi Goodman as Mama Euralie, and Henry Kafoa as Ton Ton Julian. As the male romantic lead, Gold Coast based Conor Putland has to embody the less agreeable Daniel - representing the more privileged side of Island life as he strings Ti Moune along. He superbly sings the sassy 'Some Girls' and still manages to be loveable in the romantic duet 'Forever Yours' with Merrypor.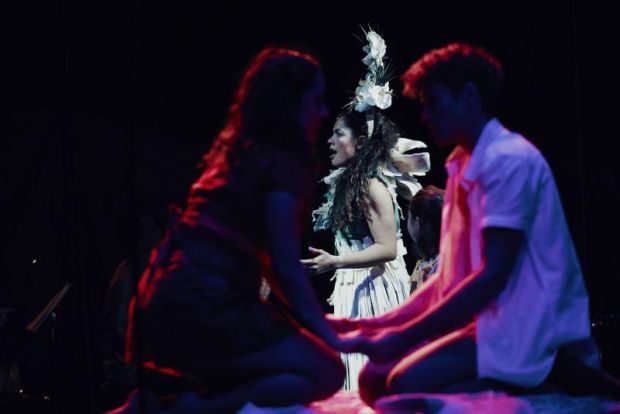 As the Gods, anchoring this tale to its Islander roots, are four very strong performers: Patrice Tipoki as Love; Garret Lyon as Earth; Vidya Makan as Death; and Rhys Velasquez as Water. Each are given a showcase number, with Lyon as Mother Earth drawing the best number with the soulful 'Mama Will Provide'.
The cast are supported by storytellers from multi-ethnic backgrounds - Danielle Remulta, Jade Delmiguez, Tallis Tutunoa, Mike Zarate, Peter Wood - and on-stage live music performed by the charismatic Alvin Rostant (steel drums), Winston Morrison (keyboard), Brendan Murtagh (keyboard), and a funky rhythm section provided by Tracie Comber (percussion) and Annie Silva (bass guitar). It's brilliant to see so many performers on the stage together.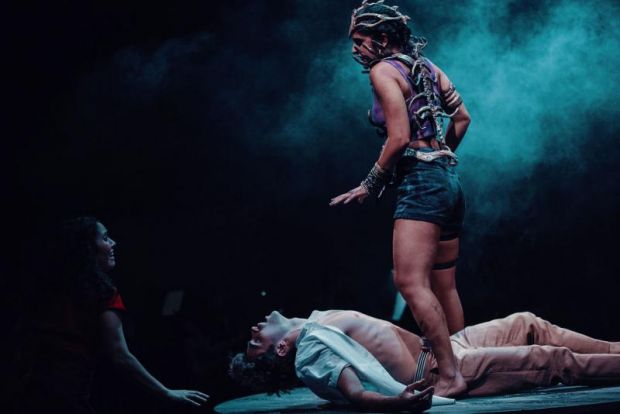 Based on the novel My Love, My Love by Rosa Guy, the stage musical adaptation Once on This Island was a Broadway hit in the early 1990s and a West End award-winning musical in the middle of the same decade. Its one-act format is perfect for the material. Trinidad-born Rosa Guy wrote her book in 1985 and, as it is based on Hans Christian Andersen's The Little Mermaid, it is not surprising to learn that a Disney film adaptation is in the pipeline. I hope the film production team takes the time to update the musical numbers, which seem a little past their date and wedded to the 1980s. They are crying out to be upgraded from pure Broadway and refreshed with real indigenous music which would make this musical more powerful and memorable.
Beth Keehn
Photos: Kyle Head