One Flew Over the Cuckoo's Nest
By Dale Wasserman, based on the novel by Ken Kesey. Epicentre Theatre Company. Zenith Theatre, Chatswood (NSW). November 4 – 12, 2011.
On a scaffolding set, where simplicity is a particularly effective choice, and the rear stage wall is clearly visible, necessary functional furniture items are the only further set dressing. There is no attempt to physically represent a mental institution.
Taking on the huge challenge of staging what has become an iconic movie, director Ben Lenzo has wisely pared all areas of his production back to the simplest elements of story-telling, avoiding direct comparison.
Add mostly neutral costuming, and only the vivid girls' costumes in the second half party scene tie the production specifically to the 1960s.
The acting ensemble does a terrific job, though there are a few inexperienced hands in minor supporting roles.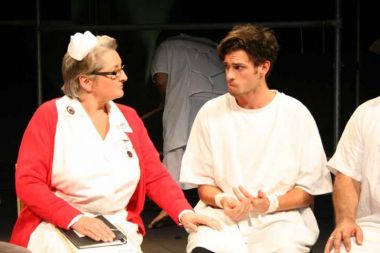 The key roles of Chief Bromden, Randle P McMurphy and Nurse Ratched dominate the play, as they do the film. Cheyne Flynn as the Chief, Dave Woodland as McMurphy and Suzy Wilds as Ratched drive the production impressively.
Still waters run deep throughout in Flynn's nicely nuanced portrayal of the Chief, while Woodland's McMurphy is a genial larrickin. Nurse Ratched, a truly nasty piece of work masquerading as benevolence, was played with utterly appropriate, truly menacing containment by Wilds.
A strong central acting ensemble portrays the inmates of the institution credibly, with sensitivity, generally balancing well on the fine line that could so easily take them over the top. Several cameos, particularly the two party girls, are well handled, though for me the double casting of the doctor and caretaker (I'm guessing through necessity) was confusing, despite David Kirkham's best efforts.
Given that the film was one of those great cathartic experiences for me, an impact I just can't hope to duplicate, that I was genuinely affected by this production is testimony to the talents and efforts of the Epicentre cast and crew.
Neil Litchfield
To keep up with the latest news and reviews at Stage Whispers, click here to like us on Facebook, or follow us on Twitter.