One Flew Over the Cuckoo's Nest
By Dale Wasserman, adapted from the novel by Ken Kesey. Sport for Jove. Seymour Centre. August 3 – 19, 2017.
Ken Kesey's controversial novel, One Flew Over the Cuckoo's Nest was based upon his experience as an orderly at a mental hospital in California. It was adapted for the stage by Dale Wasserman in 1963 with Kirk Douglas in the leading role, and the 1975 movie adaptation directed by Michael Douglas won five Academy Awards.
Whilst it exposed issues about oppression and control and the bizarre 'medical' treatments such as shock therapy and lobotomies being used in some institutions at the time, director Kim Hardwick's vision is more comprehensive and symbolically suggestive:
"Ken Keseys's metaphor for modern America is that of a mental hospital. In this case a womb-like institution able to retard development and hamper spiritual, mental and emotional growth".
Under stark lighting designed by Martin Kinnane, on Isobel Hudson's sterile white set, framed by plastic curtain strips and reflected in perspex mirrors, Hardwick's vision is realised. The seemingly soul-less inmates are monitored at all times, 1984-style, with any untoward action censured by the omnipresent voice of the tyrannical Nurse Ratched.
Into this group of cocooned, sombre characters comes the rebellious Randle Patrick McMurphy.Guilty of battery and gambling (and charged but never convicted, of statutory rape) he has transferred from a prison work farm to the hospital, thinking it will be an easier way to serve out his sentence. McMurphy's rambunctious defiance and energy … "My names is McMurphy buddies, R.P. McMurphy and I'm a gambling fool" … challenges the complacency of the ward – and the control imposed by Ratched.
Anthony Gooley is almost larger than life as McMurphy. From his first moments on the stage, he exudes suppressed energy and swaggering confidence, tempered by a sharp intelligence that is both self-serving and sympathetic. He finds the buoyant enthusiasm and tough resilience that has made McMurphy a survivor – and the 'hero' who, for a while, rouses the other inmates out of their catatonic acceptance of subjugation. This is a compelling performance full of energy and commanding belief.
Di Smith is impressive as the clinical, domineering Nurse Ratched. Smith's portrayal is steely and dispassionate, finding the insidious, controlling detachment of the character. Her cruel emasculation of those in her charge extends to her staff (Matilda Brodie, Nick Rowe and Patrick Cullen) and her 'tame' physician Dr Spivey (Johann Walraven).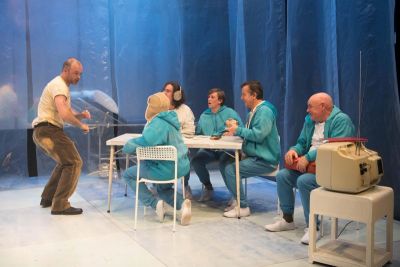 The patients are played with acute sensitivity by Laurence Coy, Joshua McElroy, Wayne McDaniel, Stephen Madsen, Tony Poli and Wendy Strehlow. They work in inspiring, collaboration, always in character, engaging and convincing, whether slumped and withdrawn, rigidly inert, stealthily observant – or enthusiastically involved in one of McMurphy's pranks, including a wild 'ward party' where two of his 'girlfriends' Candy and Sandra (Bishanyia Vincent and Felicity Jurd) upset everyone's libido.
Hardwick's production is tight and intense, mixing moments of exhilaration with others of penetrating compassion and remorse. Each scene – and the ending – is every bit as confronting as the film, but even more challenging – because of the impact of live theatre like this is so much more personal and provocative.
Carol Wimmer
Photographer: Marnya Rothe