One Man, Two Guvnors
By Richard Bean. National Theatre Of Great Britain. Her Majesty's Theatre, Adelaide, February 28 - March 9, 2013; Auckland March 14-23; Sydney 30 March – 11 May & Melbourne 17 May – 29 June.
National Theatre Of Great Britain's One Man, Two Guvnors is now touring Australia following its ongoing success in London's West End, a UK tour and an award-winning Broadway run.
Its first stop was for Adelaide Festival and while the immitigable English farce seems at odds with much of the other fare that artistic director David Sefton has programmed for 2013, it must be said that One Man, Two Guvnors is very, very funny.
Written by Richard Bean but based on Carlo Goldini's The Servant Of Two Masters of 1743, the work is set in Brighton, England, in 1963. It tells the tale of the bumbling, overweight Francis Henshall (played so wonderfully by Owain Arthur) who becomes the minder of Roscoe Crabbe while also finding himself in the employ of Stanley Stubbers (Edward Bennett). It is his attempts to keep this fact from each that gives way to much silliness. Especially when we all know that Crabbe (actually being played by Rosie Wyatt) is the gangster's 'identical' twin sister Rachel and that Stubbers has killed Crabbe and is in love with his sister. If it sounds complicated, it is, but all this only adds to the farce.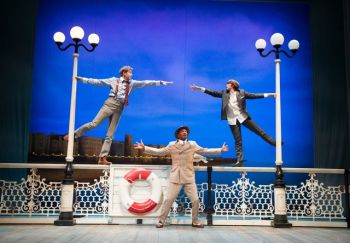 The work begins with a four-piece band, The Craze, playing Lonnie Donegan-inspired skiffle numbers on stage as the audience makes their way to their seats. It then begins with Francis telling us he's just been fired as the washboard player with a skiffle group and that he's looking for employment. There are also a number of incidental sub-plots involving the 17 cast members.
The large sets are cleverly designed – they easily slide on stage and off – and depict a sitting room, street scenes, the Brighton Pier and the inside of a pub and during the many changes, The Craze keep the audience amused with original songs penned by Grant Golding. This also gives key cast members a chance to shine on an array of obscure musical instruments and we discover that Arthur is a skilled xylophone player and that Bennett can blow a mean horn.
One-liners come so thick and fast it's sometimes difficult to keep up with them and the play also pays slight homage to the Carry On films of the 1960s. There's also some very funny audience interaction such as when two males are dragged up on stage to help Francis lift a trunk and when a lady in the front row is asked to hold a tureen filled with soup. But it's best not to mention the sandwich incident.
The cast look like they are enjoying the play as much as the audience which, at times, leads to them also being barely able to hold their laughs. This then steers the work towards some clever improvisation and amusing ad-libs.
It's a great ensemble but Peter Caulfield really shines as Alfie, an 87-year old waiter who gets pummeled during a series of cleverly timed pieces of slapstick involving swinging pub doors and a cricket bat. It's Owain Arthur as Francis, however, who gets the most laughs due to his crazed antics and highly amusing facial expressions along with ability to tease audience members unfortunate enough to be places in the front rows.
I must say that I have not laughed so much during a play since I can't remember and at one stage had tears rolling down my eyes and somehow managed to spill my drink. Described the UK's Daily Mail as, 'The funniest show on the planet', it's an accolade not without foundation.
Robert Dunstan
Additional comments From David Spicer
Opening night in Sydney saw the audience become the stars.
Attending the performance were dozens of STC actors and creatives. When one was called up onto the stage he was so cheeky that Owain Arthur was left in almost uncontrolled laughter.
Another member of the audience was the best actor of the night, in an utterly convincing moment that left you gasping at interval.
This is the most fun you can have sitting down.
Images (from top): Owain Arthur (Photographer: Johan Persson); Edward Bennett (as Stanley Stubbers), Mark Monero (as Lloyd Boateng), and Rosie Wyatt (as Rachel Crabbe); Amy Booth-Steel (as Dolly), Nick Caveliere (as Harry Dangle), Leon Williams (as Alan Dangle), Kellie Shirley (as Pauline) and Mark Monero (as Lloyd Boateng) & Kellie Shirley (as Pauline), Rosie Wyatt (as Rachel Crabbe), and Amy Booth-Steel (as Dolly). in the National Theatre of Great Britain's production One Man, Two Guvnors. Photographer: Tristram Kenton.