One Man, Two Guvnors
By Richard Bean. Richmond Players. School of Arts. Saturday May 11, 2019 – 8pm, Friday May 17 – 8pm, Saturday May 18 – 2pm & 8pm.
Think Britain in the 1920s! Flappers and tappers! Gangsters and pranksters! Think colourful, busy beachside Brighton! That's exactly where director Carol Dicker has taken this production of One Man, Two Guvnors, Richard Bean's madcap adaptation of Carlo Goldoni's eighteenth centurycommedia dell'arte play, Servant of Two Masters.
The plot is ageless: a twin sister disguised as her dead brother; three complicated love stories; a ruffian; a shark; three sassy women; and a rogue working for two bosses. The comedy is ageless: puns, slapstick, plays on words, falls and pratfalls. It worked for Shakespeare; it worked for Goldoni. It worked for Bean! Dicker and her busy cast have been very busy making it work for Richmond Players.
The play is funny. It lends itself to song and dance. As well, the period lends itself to colour and jazz. And Dicker has incorporated all of this into a production that is sure to tick lots of audience-appeal boxes.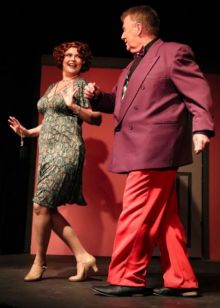 John Courtney plays the incorrigible rascal, Francis Henshall, an out-of-work skiffle player who is hungry for a job – and food. It is he who is the 'one man' trying to work for 'two guvnors'. Courtney rises to the many challenges of this role – the quick talking prattle, the sleight of hand, a fight, a couple of difficult falls, and some song and dance. The audience is Henshall's confidante and Courtney breaks through the fourth wall with engaging charm.
Heloise Tollar and Robert Hall play his 'two guvnors'. Tollar is Rachel Crabbe, disguised as het twin brother, Roscoe. In an ill-fitting suit, a wig and a cocky little hat, she 'manfully' strides the stage, placating her brother's fiancée, getting promised money from her erstwhile father-in-law-to-be and giving orders to Henshall.
Hall is very funny as the other 'guvnor', the upper-class but chumpish Stanley Stubbers – Rachel's lover and the man who killed her brother. Hall has a strong stage presence and his comic timing, use of pause and confident pace set the tenor in his scenes.
Courtney, Hall and Tollar have some tricky moments involving not just 'two guvnors', but two swinging doors, two letters, two meals and two fast-spoken explanations. Comedy like this can be two dimensional, but Dicker has managed to make sure that the characters are as important as the clowning.
Michael Niccol plays Charlie the Duck, a local crook whose pretty, but ditzy, daughter Pauline (Madz O'Hare)was engaged to Roscoe but is really in love with over-the-top wannabe actor, Alan (Thomas Gardiner). All three of these performers find the comic fun in their roles, Niccol by cunningly playing down the character, O'Hare and Gardiner by doing just the opposite.
Charlie's feminist bookkeeper, Dolly, is played with cool flair by Samantha O'Hare. This is a gem of a role, and O'Hare relishes every feisty line and suggestive moue.
The supporting cast add much to the humour of the production, especially Nellie Grimshaw – billed as "Greek Chorus" – who makes some fast and admirable scene and character changes. Watch especially for the nun, the baton-twirling policeman and an auspicious journey through the fourth wall! Catherine Gregory is innkeeper Llola, Craig Wynn-Jones is Charlie's lawyer. Simon Dane is a doddery, zanny-style waiter. Anne McMaster is his patient boss.
Dicker has chosen a multi-skilled cast, enabling her to bring some of them in front of the curtain as stylish entertainers between scenes. Singing and dancing in their elegant, glitzy 20s costumes gives the production extra sparkle and pizzazz.
As does bringing the whole cast on stage in an energetic tapdancing finale! Choreographed by Samantha O'Hare, this is a colourful climax to a bright production that will take the bite out of cool May nights – and debatable electioneering!
Carol Wimmer
Photographers: Grant O'Hare and Simon Dane