ONEFIVEZEROSEVEN
By Suzie Millier. Barking Gecko Theatre Company. Directed by John Sheedy. Studio Underground, State Theatre Centre of WA. Feb 22 - March 1, 2014.
Barking Gecko Theatre Company presented this World Premiere production, by Suzie Millier, as part of the Perth International Arts Festival.
ONEFIVEZEROSEVEN is the middle offering in a trilogy that began with Driving Into Walls and follows an Australia-wide investigation into the ideas and views of teenagers. The opinions and voices of over 1200 teens became the themes and stories of this piece, named for the average number of items in a teenager's bedroom, that combines apparently verbatim theatre with dance and movement.
The young cast, some of whom are barely older than the teenagers they portray, while obviously cast for their dance expertise are also competent, and at times, mesmerising actors.
The stories told are fascinating and varied. Yilin Kong is funny and likeable as a girl with a duck obsession, a stark contrast to the sad story told by Rikki Bremmer about a young woman with a cheating boyfriend and the casual almost flippantly delivered monologue from Jacinta Larcombe about a young girl who has been sexually abused by multiple partners and almost doesn't seem to recognise it.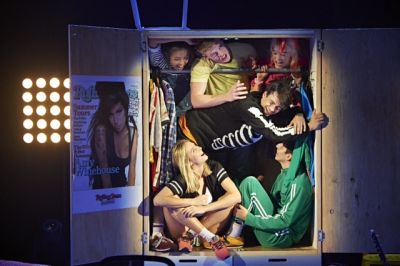 Harrison Elliot gives a moving physical and emotional performance. Toby Derrick's portrayal of a young man whose possessions include a handgun (he's not really sure why) is disturbing while Mohammed-Adel Berrached's speech in Arabic and his depiction of an immigrant from war-torn Beirut shows a difficult and different teenage experience.
On the whole ONEFIVEZEROSEVEN is a much more upbeat portrayal of young people than Driving Into Walls. Partly this is from the dynamic and positive choreography by Danielle Micich, energetically executed by the talented dancer-actors, but generally the tone is much more fun and uplifting. Some aspects remain worrying, including the number of young people with drugs in their bedrooms and the (presumably accurate) statistics detailing the number of teenagers having unprotected sex.
While the audience as a whole was distinctly older than the subjects of ONEFIVEZEROSEVEN (and this is not necessarily a bad thing), my fifteen year old companion enjoyed the show and thought it an accurate reflection of her generation. Well worth seeing if you are a teen, know a teen or have ever been a teen.
Kimberley Shaw
Photographer: Jon Green