Orpheus In the Underworld
Jacques Offenbach, with new lyrics by Nicole Stinton. WAAPA Classical Voice Students. Directed by Nicole Stinton. The Rechabite Hall, Northbridge WA. Oct 12-15, 2020
WAAPA productions are currently not open to the general public, but Classical Voice students are performing to very limited audiences at The Rechabite, preceding a YouTube broadcast season from 24-31 October.
Beautifully housed in heritage Rechabite Hall, the gorgeous set design by WAAPA student Monique Doubleday blends beautifully with the building and transforms effectively with each act. Katie Southwell's lighting design adds atmosphere and the costumes by Jamie Fodor are sumptuous and add colour and life. The large scale scenic transitions between acts are executed with precision by a stage management team led by Beck Thorman.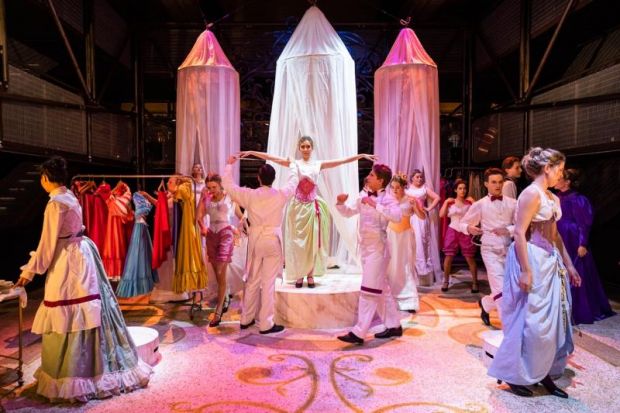 As we would hope from WAAPA's classical department, the singing is excellent and is supported by superb accompaniment by the WAAPA Symphony Orchestra under the baton of visiting artist Vincent Colaguiri. Amaru Weidemann provides effective sound design.
This incarnation is Offenbach's 1874 version of the opera, but features a brand new libretto by director Nicole Stinton. Rather than being set in Ancient Greece, the action takes place in 1889, culminating in a celebration at the Moulin Rouge - which famously adopted this opera's Infernal Galop or Can-Can as its own.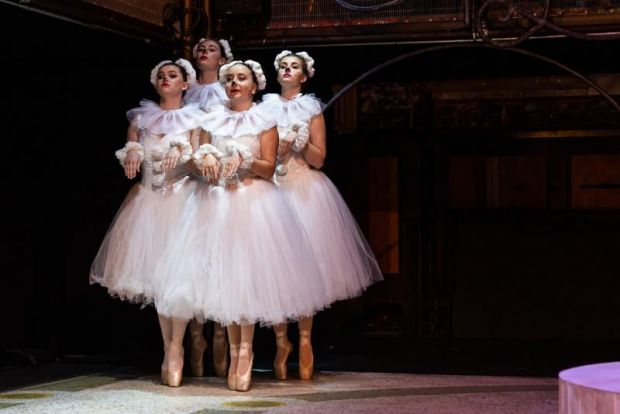 Ava Charleson (who shares the role with Emma Oorschot) is delightful as Eurydice, in a beautifully sung, well acted performance. She is nicely mismatched with Keaton Staszewski-Hose (the alternate is Lachlan Higgins), who gives us a quirky and likeable Orpheus. Eurydice's seducer Pluto, traditionally disguised as a shepherd, is played with passion by Hartley Trusler. Rather than being accompanied by sheep, he is supported by a quartet of French poodles en pointe - a highlight of the show, the performers are four of five dancers borrowed from the Musical Theatre Diploma course. Public Opinion is played with a lovely out-spoken tone by Ruth Burke (or Sophie Herbert), supported by Sophia Wasley as Sister Therese. Ben Del Borrello as John Styx provides comic flair throughout.
Act Two reveals the House of Jupiter - a couture house, rather than Mt Olympus - over which Jupiter, played with authority by Nathan Breeze (sharing with Kyle Garces) presides. Many impressively sung performances in this section include Bella Marslen's passionate Diane (she alternates with Ashley Chua) and Mayumi Burns' very vibrant performance in the breeches role of Cupid (she shares with Charis Postmus).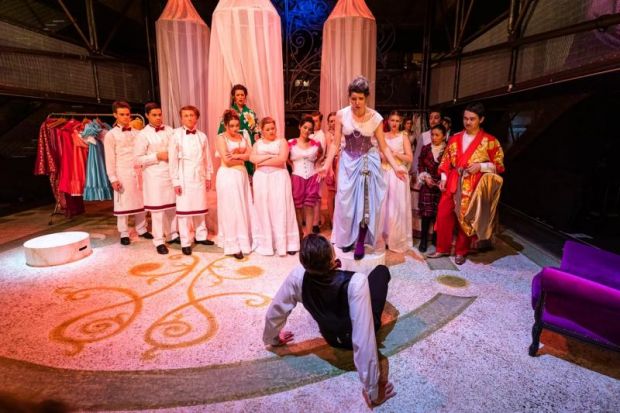 Act Three is performed with beautiful intimacy, now taking place backstage at a cabaret.
The final act is a riotous celebration, with a party atmosphere as the audience becomes part of the clientele at the Moulin Rouge. A wonderful conclusion with amazing song and enthusiastic, well-executed can-can.
Top notch performances from all soloists, a large, very involved and focused ensemble, orchestra and crew. I highly recommend catching the broadcast season if you are an opera fan, or if you feel you would like to dabble in the genre. This is a party of a production.
Kimberley Shaw
Photographer: Stephen Heath