Other Desert Cities
By Jon Robin Baitz. Melbourne Theatre Company (Vic). Southbank Theatre (The Sumner). Director: Sam Strong. Set Designer: Callum Morton. Costume Designer: Esther Marie Hayes. 2nd March – 17 April, 2013.
Couched in real-life events affecting Republicans Ronald and Nancy Reagan, and James Oughton, Other Desert Cities not only explores family politics, but the complexities inherent in families addicted to preserving a public image.
Jon Baitz's explosive script has the audience eavesdropping on the family reunion of Senator Lyman Wyeth, his wife Polly, their grown-up children Brooke and Trip, and Polly's sister Silda. When Brooke, a writer, reveals she has written her account of the most painful chapter of the family's history, all hell breaks loose.
Baitz has written repeatedly about 'the accidental process by which we discover what our real politics are, which are quite distinct from the ones we announce', and in Other Desert Cities the catalyst of personal crisis has the layers peeling away.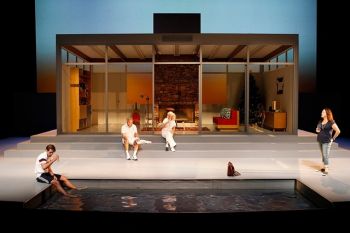 The superb cast, Robyn Nevin, John Gaden, Sacha Horler, Sue Jones and Ian Meadows, swan around the set, as the audience is positioned ostensibly beside the pool. Family exchanges proceed behind full-length glass windows, and other times as they emerge poolside for air. For the most part the dialogue is the action, and there is little time to draw breath.
Other Desert Cities is emotionally intense and densely written. The opening night audience, often moved to audible reaction, was riveted for its 2½ hours.
Lucy Graham.
Images: (top) Robyn Nevin (Polly Wyeth) and Sue Jones (Silda Grauman) & (lower) Ian Meadows (Trip Wyeth), John Gaden (Lyman Wyeth), Robyn Nevin (Polly Wyeth) and Sacha Horler (Brooke Wyeth). Photos © Jeff Busby