The Other Place.
By Sharr White. Directed by Nadia Tass. Set Design – Shaun Gurton, Costume Designer – Edie Kurzer, Lighting Designer – Nigel Levings, Composer – Paul Grabowsky, Sound Designer – Russell Goldsmith, Voice and Dialect Coach – Suzanne Heywood. Melbourne Theatre Company. The Playhouse, Arts Centre, Melbourne. 26 January – 2 March, 2013
Catherine McClements's work as Juliana, a convincingly dynamic and successful woman in her early fifties, is remarkably strong and rich in this beautifully complex work by American writer Sharr White. It reveals as it unfolds in twists and turns, by degrees - in a seemingly effortless manner due to Nadia Tass's directorial precision.
The Other Place is presented on a neutral, uncluttered set by Shaun Gurton and lit to create various and varied atmospheres by Nigel Levings.
McClements is a real tour de force. Although an actor easily recognized for her extensive television work, she displays wonderful strength and ability on the large Playhouse stage where she is able to 'turn on a pin' emotionally and psychologically. Her relationship to the audience is challenging as a presenter and narrator (albeit unreliable) and participant in two other narratives, one legitimate and one, a fictionalized construct.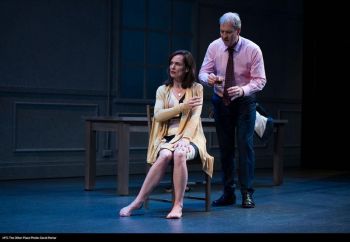 Sound (Russell Goldsmith with composition by Paul Grabowsky) is used unconventionally to enrich the atmosphere and at times, ambiguously, echoes the shifts in Juliana's destabilizing mind.
There are several laments in this work. The loss of a child is a haunting theme but not the crux of the work. At the heart of the writing is the curvy flow of the changing realities, understandings and perceptions of Juliana's brain that makes it such a rich and rewarding piece.
David Roberts as Ian, Juliana's longsuffering husband, initially portrayed through the eyes of his wife, as a self centered adulterer, towards the end of the play sits on stage - a man reduced by the weight of the burden of loving a woman who is no longer the one he married.
Clever, poignant and moving, The Other Place is solid satisfying theatre!
Suzanne Sandow
Images (top) Catherine McClements & (lower)Catherine McClements and David Roberts. Photos © David Parker.