Out Damn Snot
La Boite and Shake and Stir (Qld). Roundhouse Theatre, 8-19 February, 2013.
Interest in this show began building from November last year. I can't recall a premiere that attracted such anticipation, or such an overflow audience!
Not unlike Lewis Carroll's Alice in Wonderland, Mackenzie, Kimmy and Heath are transported into a fantastic place where they meet amazing characters before they return to reality.
Amy Ingram, Nelle Lee and Nick Skubij play the three children splendidly, but Leon Cain's four over-the-top characters were audience favourites. Writers, Ross Balbuziente, Nelle Lee and Nick Skubij, aimed for a target age of 8-12 year-olds. In practice it's more like 8-80.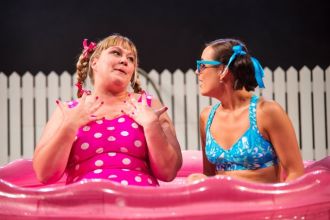 The show depends heavily on special effects. Director, Ross Balbuziente, employed the 'Triple Threat Team of Creatives': Josh McIntosh (set/costume design), Jason Glenwright (lighting) and Guy Webster (sound effects and composer). Special credit to the stage crew who braved preparation of and clean-up after bucketfuls of snot.
My co-reviewer, Bridget (12), offers her opinions: "I loved Out Damn Snot - it was fun-filled, gross, ridiculously funny, slimy... and green! The actors connected really well with the audience and allowed people of all ages to have a good giggle. The show is really funny because heaps of people get slimed! Leon Cain as the Booger Bum Fairy – and all the other characters he played – was a highlight. His Lady of the Nose Flake, on rollerblades, was particularly cool. This is an experience not to be missed – I recommend it to all."
Jay McKee
Images: (from top) Nick Skubij; Amy Ingram and Nelle Lee; Leon Cain and Amy Ingram. Photographer: Dylan Evans.